The PS5 has been out for more than 2 years, and like many previous console generations, the start has been a bit slow as developers slowly move out of the cross-generation gap. Sony's first-party studios have already put some excellent titles on the PS5 titles that greatly benefit from current-gen hardware. Despite cross-gen limitations, the PS5 currently has a ton of fantastic games that are well worth experiencing. From remasters to remakes, sequels, and bullet-hells, here are our picks for the 15 best PS5 exclusive games you can play in 2023.
Demon's Souls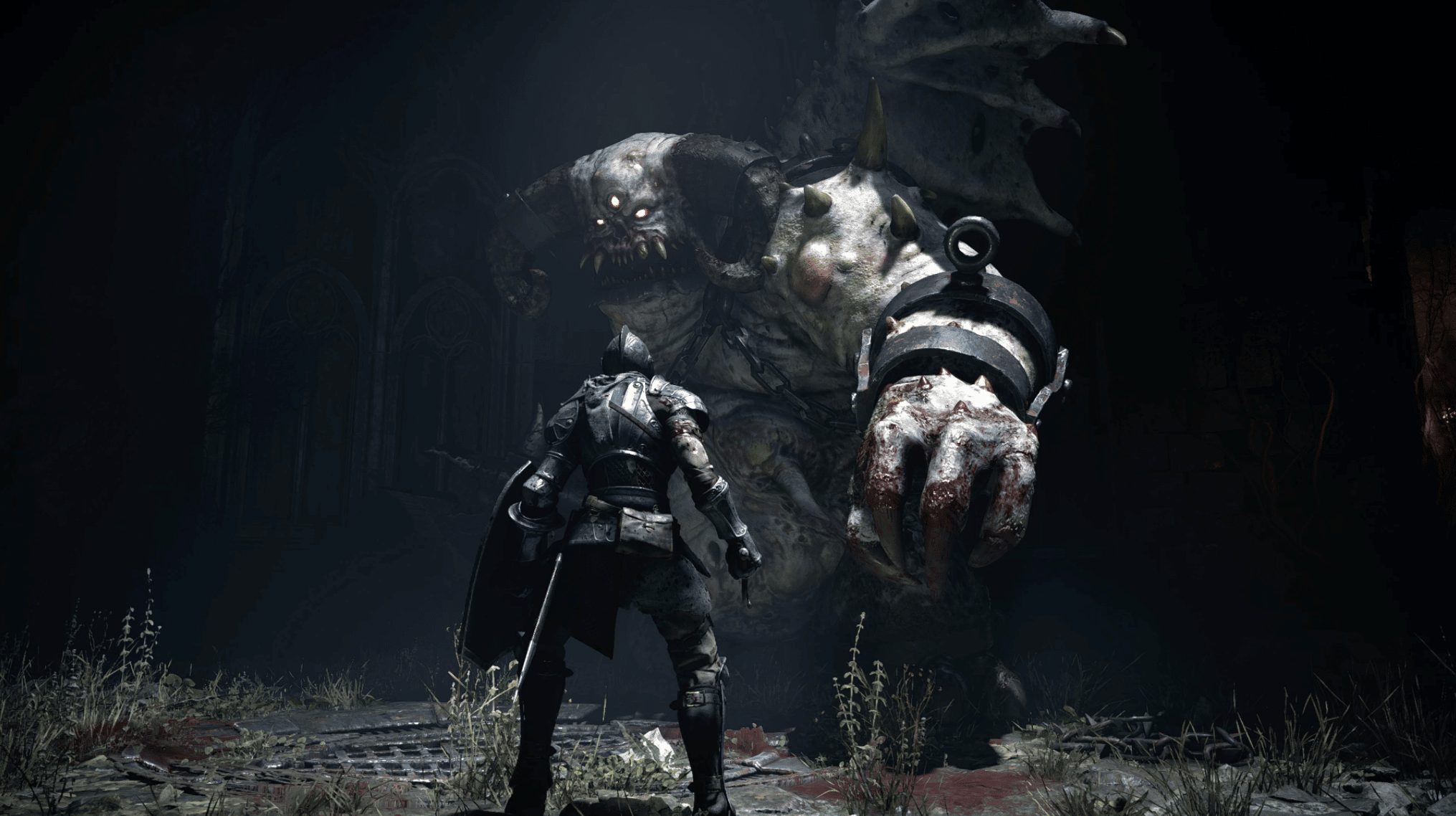 Release Date: November 12, 2020
This is where the Soulsborne genre started almost 11 years ago. Now you can enjoy the remake of the legendary Demon's Souls on your PS5. The incredible FromSoftware game has gotten a much-needed facelift thanks to Bluepoint Games, which have previously worked on the Shadow of the Colossus Remake for the PS4, and other remaster collections for iconic PlayStation franchises. It is a classic action role-playing game that is hard but fair. You'll repeatedly die until you nail down the timing of each parry, dodge, and roll.
The overall gameplay experience remains the same as we remember, but the game looks incredibly beautiful on the PlayStation 5. There are also some quality-of-life improvements thrown in so that new players won't feel totally out of the loop. It is one of the best RPGs available on PS5. The game is also available on the PlayStation Plus Extra subscription service so you can try it out there as well.
Bluepoint Games was officially acquired by PlayStation Studios back in 2021, and we're excited to see what IP they'll target next or if they're working on a completely original title.
Ratchet & Clank: Rift Apart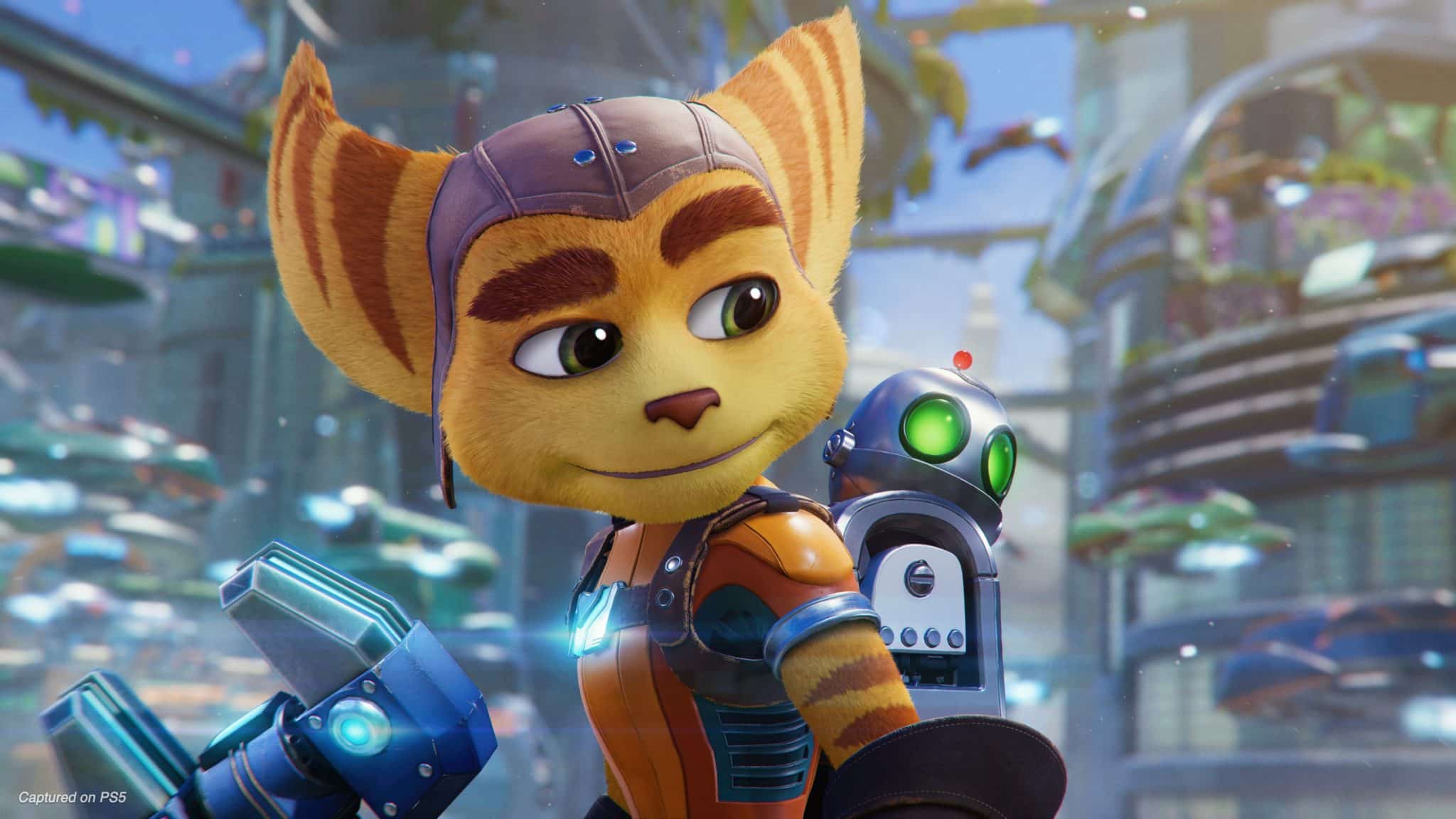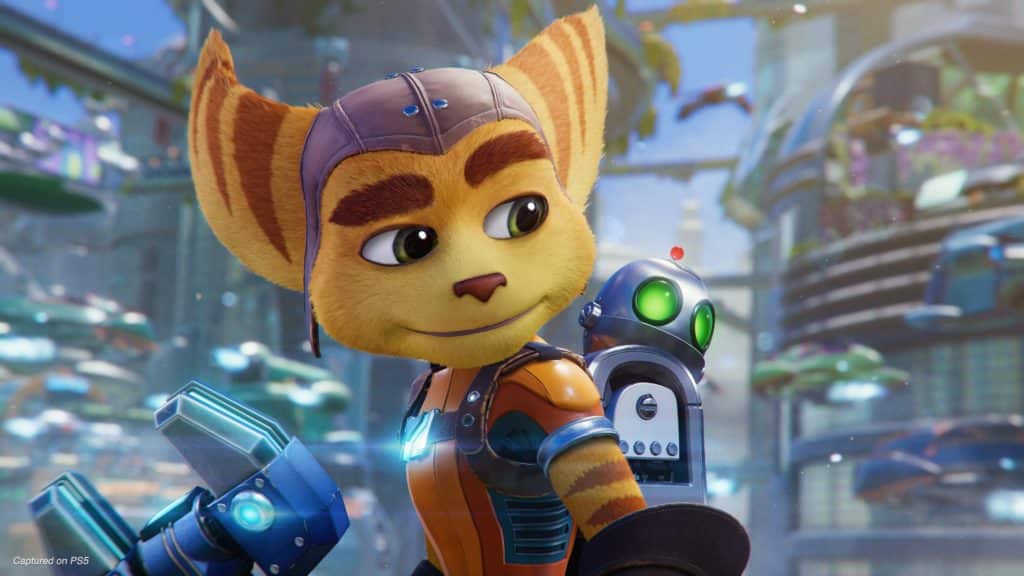 Release Date: June 11, 2021
Insomniac Games are technical magicians, and they have been producing some amazing PlayStation exclusives for years now. Ratchet & Clank: Rift Apart is a follow-up to their severely underlooked reboot title of the franchise that came out on the PS4. This new entry is easily the best visual showcase for the PlayStation 5's power. The game has incredible graphics, the characters seem to be plucked out of a Pixar movie, and the environment is stunningly designed.
The animations, the reflections, and even the shadows are polished to perfection here. If you love a good platformer, then Ratchet & Clank: Rift Apart is made for you. Don't even get me started on how addictive all the weapons are in the game. The more you use them, the better they'll get. Overall, this PS5 exclusive is an entertaining ride that doesn't overstay its welcome.
Insomniac Games continue to impress with their exclusives, and Ratchet and Clank pushes the PS5's fast storage to transition between scenes instantly. It has been praised by fans and critics alike
Astro's Playroom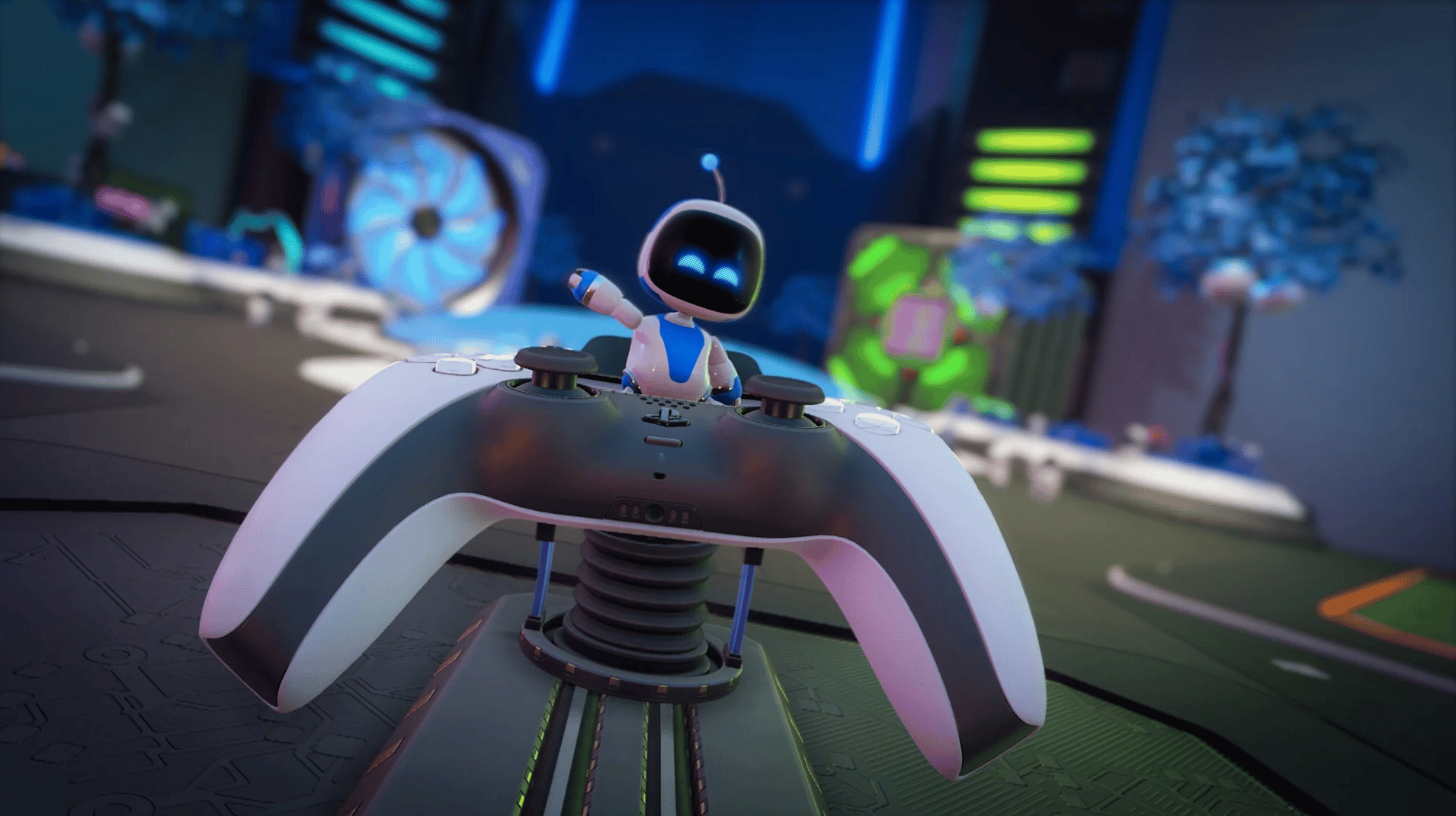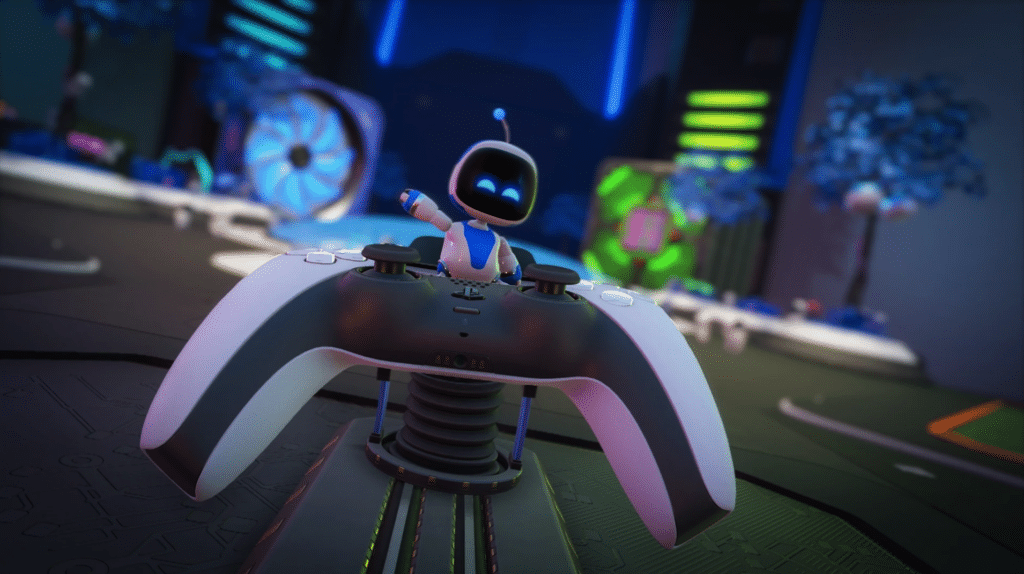 Release Date: November 12, 2020
At first glance, Astro's Playroom might seem like a tech demo to showcase the new features of the PS5, which, to be fair, it is. However, once you start playing the game, it will become apparent that it is much more than that. It is a love letter to PlayStation history, its various third-party franchises, and exclusive games. You can spot characters from all PS games (and other hits) across the levels.
Astro's Playroom comes preinstalled on the PlayStation 5, and I highly recommend that you start playing it right away after you set everything up. It not only introduces you to the new PS5 DualSense controller features, but it is a meaty platforming experience. While the adventure only takes around 3 hours or so to complete, if you're a fan of PlayStation history, you can potentially spend a lot more time discovering all the callbacks and Easter eggs.
Astro Playroom shows what the PS5 is truly capable of from a pure hardware level as well. It's a taste of what you can expect from first-party exclusives at least, and we're seeing so many developers make use of the Dualsense, and its haptic capabilities already.
Returnal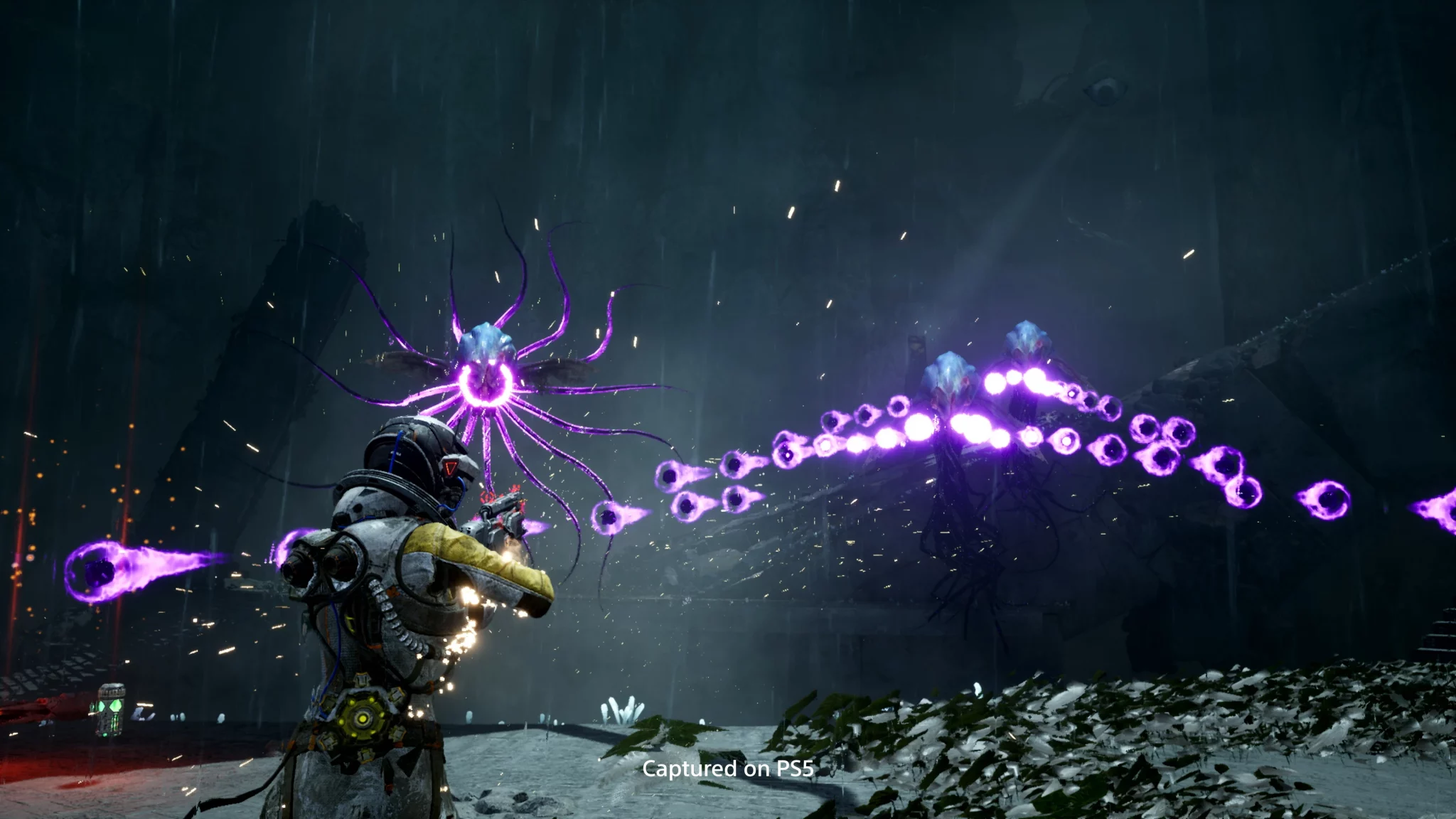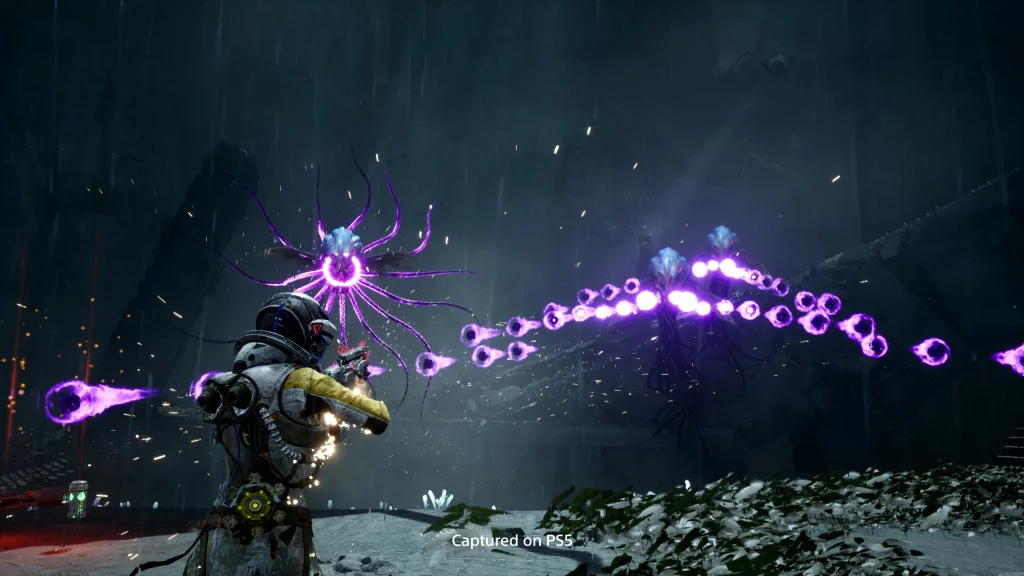 Release Date: April 30, 2021
Returnal is a victory for Housemarque, and they have cemented themselves as incredibly talented developers. Returnal is a roguelike third-person shooter game, which may seem like an odd combination, but it works perfectly well. The unpredictable nature of the levels, combined with super tight and responsive movement, makes for a superbly fast action experience that isn't available elsewhere. If you are familiar with bullet hell games of the old times, which were usually 2D, you'll be right at home playing Returnal.
You play as Selene is stuck on a hostile alien planet as her spaceship crashes. However, every time she dies, she wakes up at the side of the crash landing. It is up to you to take her out of this time loop and discover why she is stuck here in the first place. The developers have struck a great balance between story and gameplay; the story unfolds gradually as you progress through the game. There aren't a lot of cut scenes doling out exposition like other (equally great but different) video games.
There is also a co-op mode that was added as part of a recent update, and you can enjoy the title with a friend. Housemaque has cemented itself as one of the best studios currently in business, and if Nex Machina wasn't enough to sway you, Returnal will.
Gran Turismo 7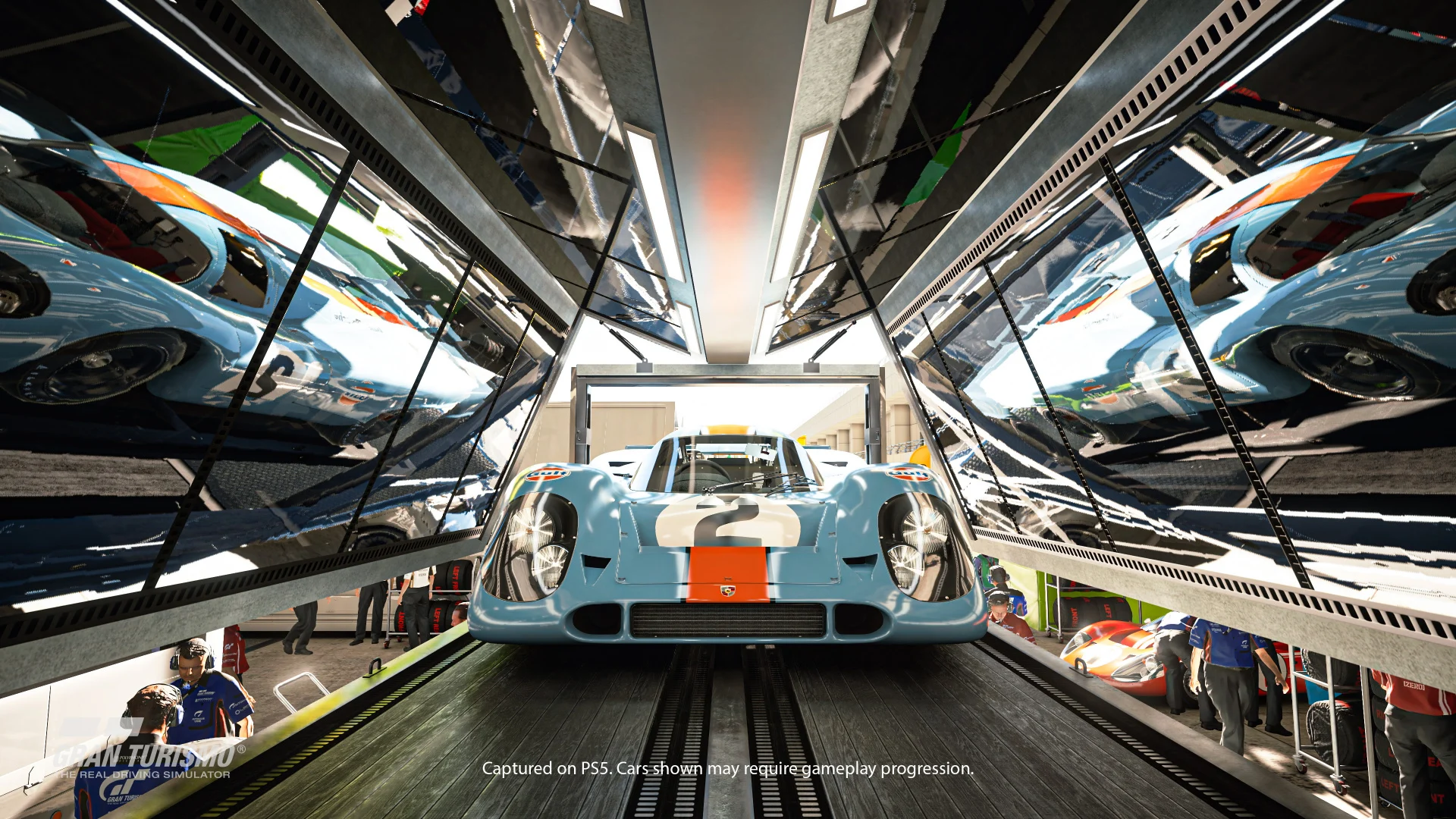 Release Date: March 4, 2022
Gran Turismo brought simulation racing to the PlayStation platform, and Gran Turismo 7 is continuing the tradition. Despite having a rough launch, thanks to the online and maintenance issues, the game is faring well these days. There was also buzz surrounding the microtransactions being a little invasive, but if that doesn't dissuade you, there is a fantastic racing game to be enjoyed here.
There is a deep solo campaign that you can enjoy as you unlock more and more cars and complete challenges. Furthermore, there is also the Gran Turismo 7 simulation mode that allows you to buy cars, tune them to your liking, race them around, and eventually sell them when you're ready to move on.
There are over 420 cars available and are authentic to their real-world counterparts. The detail that's been put on the cars is astounding, and the same can be said for the 90 track routes available for you to race on. The graphics make full use of the PlayStation 5's horsepower and deliver crisp and stunning visuals.
The game runs at 60 frames per second with support for 4K resolution and HDR. Along with Ray tracing support, the game uses the ultrafast SSD in the PlayStation 5 to get you in the race faster. It also puts the adaptive triggers in the controller to good use, letting you feel the vibrations from the brake system and wheel spins.
Sackboy: A Big Adventure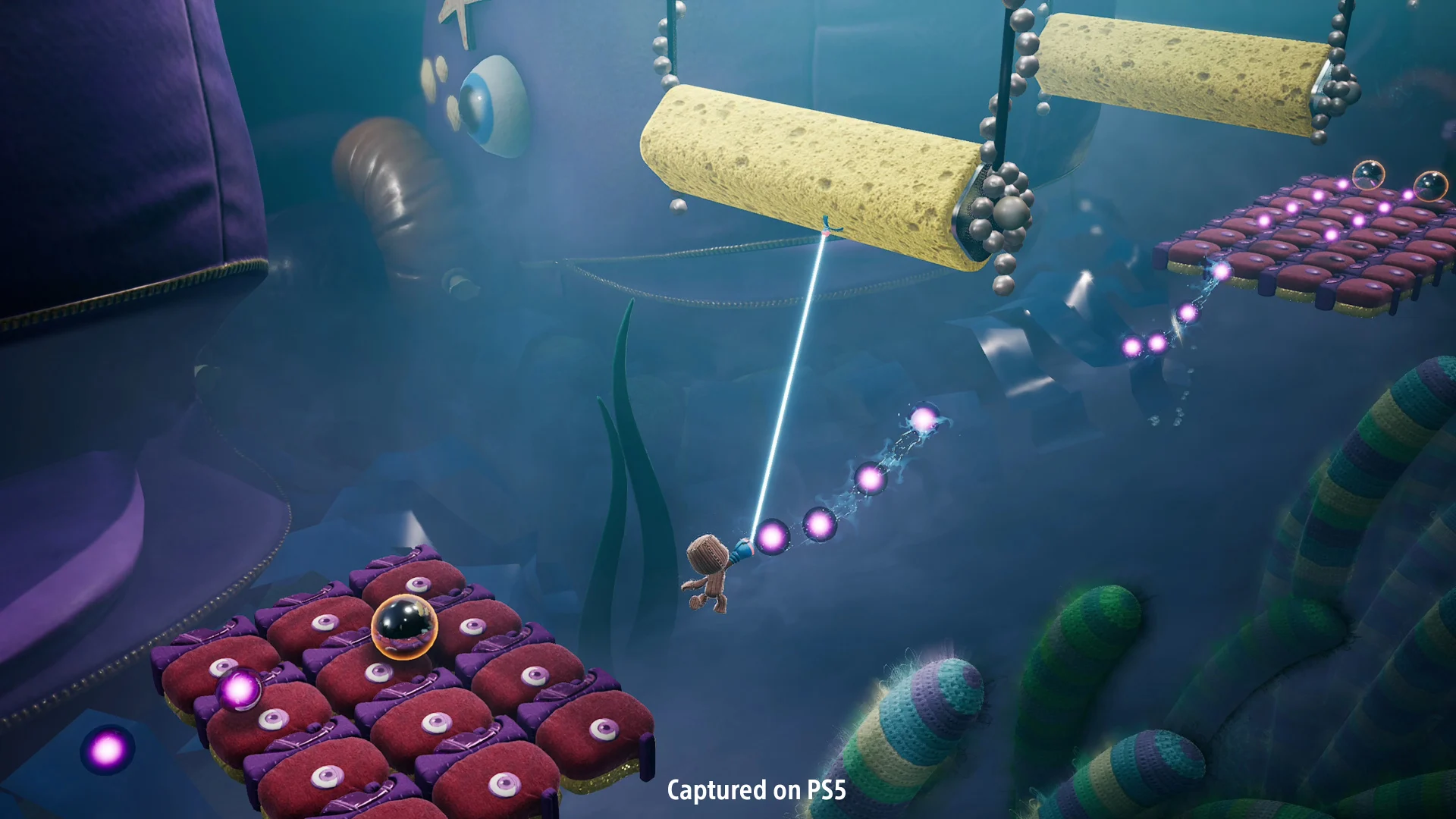 Release Date: November 12, 2020
Fans of family-friendly games would love Sackboy: A Big Adventure, as it delivers adorable aesthetics and tight platforming action. The game is fully playable in co-op as well, so you and your kids can enjoy the ride together. The cute characters combined with lovely environments make the game immediately endearing.
The game is a pure co-op platformer through and through, with imaginative visuals and a pretty high replay value. The game is also easy to understand, so you can simply hand the controller to a buddy and get into the action fast. While the game didn't launch with an online co-op option, it's now included so you and your distant friends or family can join in on the fun.
Sackboy: A Big Adventure is certainly one of the more underappreciated titles of the past few years. It's bursting with creativity, diverse levels, and a fun soundtrack. Like other games on this list, Sackboy: A Big Adventure also uses the Dualsense's haptic features, and you'll feel the surface of different platforms in your hands as you play. If you own the game on the PS4, you can upgrade to the PS5 version for free and enjoy all the PS5 specific features, including faster load times.
The Last of Us Part 1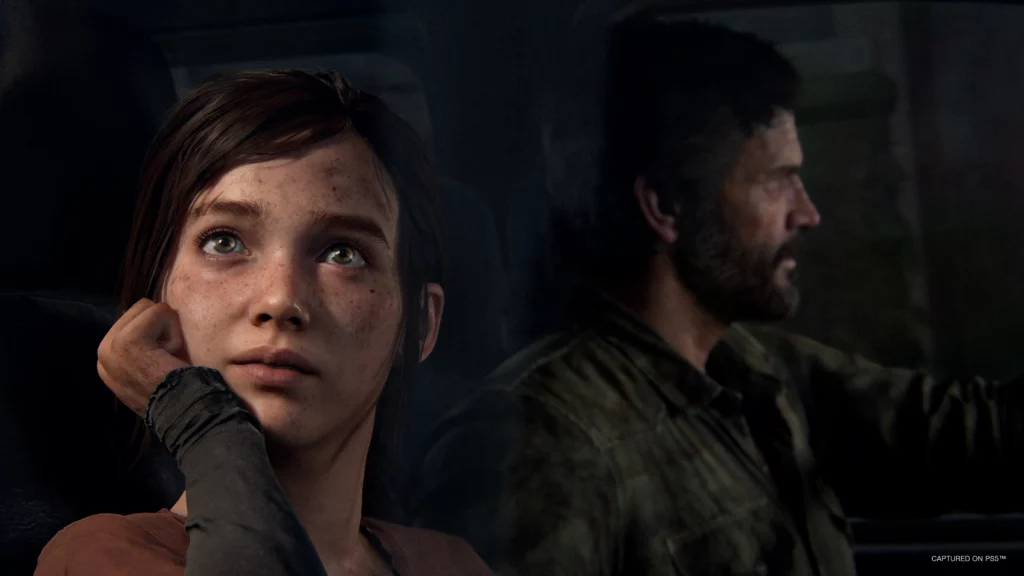 Release Date: September 2, 2022
The Last of Us Part 1 is an official remake of a game that came out on the PlayStation 3, got a remaster on PlayStation 4, and is now available natively on the PlayStation 5. If you haven't played the original critically and commercially acclaimed survival horror game, this might be the best way to experience it.
Having played the original and the remaster, I was still blown away by the detail and facial animations in the remake. It is not a wholly original experience because the game follows the same story beats as the first game. However, improvements to the graphics and the gameplay provide a fresh new way to enjoy the game.
The game is developed by Naughty Dog themselves and sees graphical improvements across the board. The resolution is higher, the frame rate is better, the texture work is phenomenal, and they even remade each asset. If you're a fan of physics, you'll be delighted to know the game has carpet physics. Yes, the carpet physically moves realistically under the feet of your character.
The story follows a jaded middle-aged guy named Joel who has to smuggle a girl named Ellie across the country. Sounds easy enough, but he'll have to fight against a variety of zombies and humans in a post-apocalyptic setting. It's a simple story, told very well, and one of the best we've seen in the medium. Playing it again with such a huge uplift makes it one of the best PS5 experiences you can have.
God of War Ragnarok
Release Date: November 9, 2022
It should come as no surprise that one of 2022's best titles is on this list. God of War: Ragnarok is a follow-up to 2018's seminal action title from Studio Santa Monica that delivered one of the best adventures we've had in the past decade. God of War Ragnarok takes it ten steps further and expands on basically every part of the first title. Its combat has more depth, enemies have a lot more variety, bosses are challenging, and the locations continue to surprise you as you continue to play.
The less said about the story, the better, but if you've played the first one, you'll probably have a good idea of where things are headed. Despite your prior knowledge, God of War Ragnarok introduces tons of new characters. The story keeps surprising you with excellent performances and exciting narrative sections that we haven't seen in the franchise before.
Combat is brutal, and Kratos has more movement options and how he can approach different encounters. Atreus plays an even larger role in this, and he's always an asset rather than an annoyance. While this is also available on the PS4, God of War: Ragnarok truly shines on the PS5 with many graphical modes, supporting up to 120 FPS when played in performance mode.
God of War: Ragnarok is a phenomenal title that is impressive in its scope and heartfelt with its storytelling. It's a must-play title for PlayStation fans and one we won't forget anytime soon.
Ghost of Tsushima: Director's Cut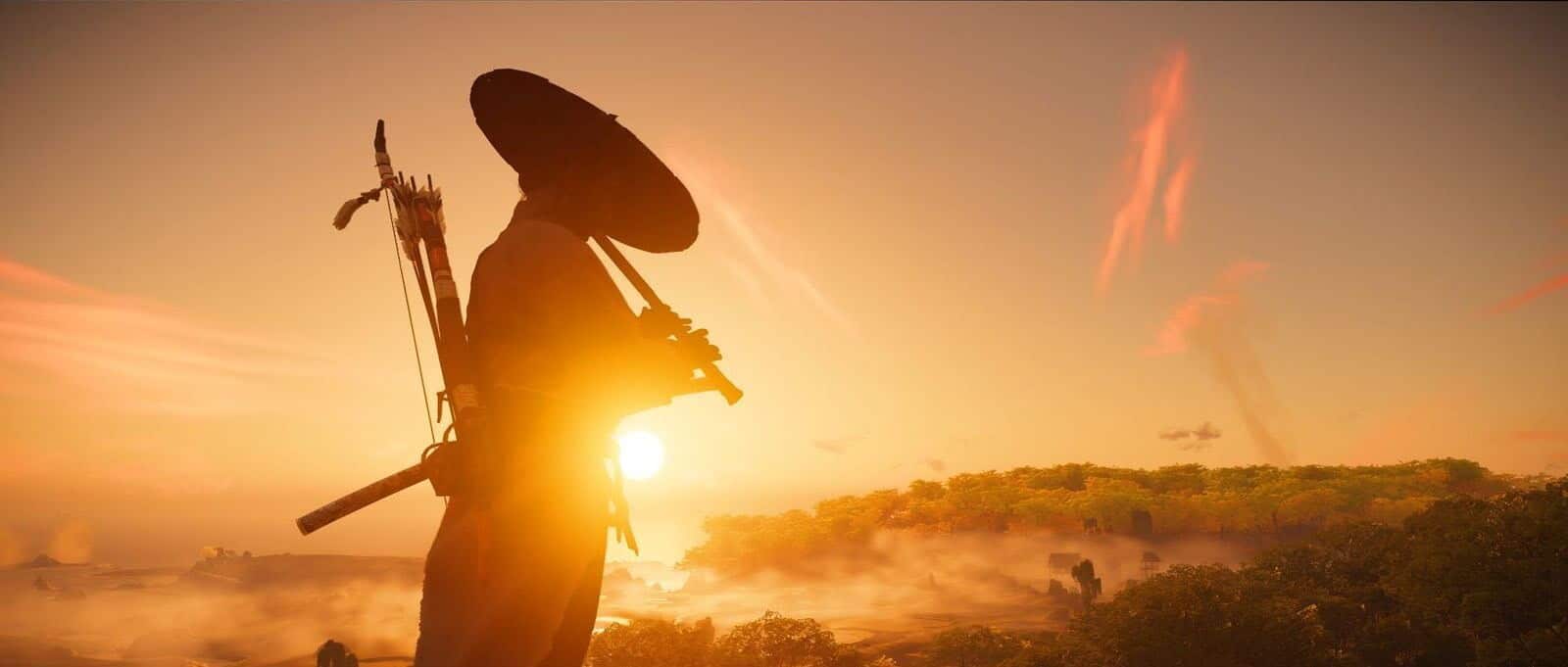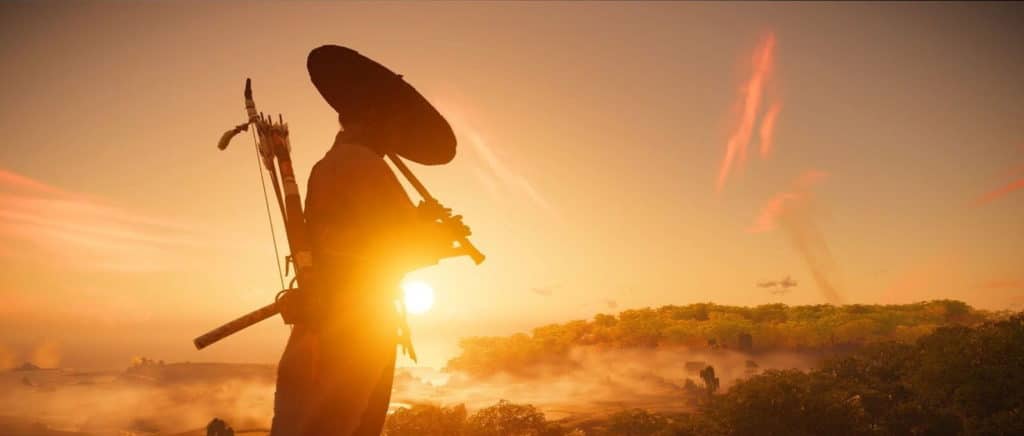 Release Date: July 17, 2020
Ghost of Tsushima: Director's Cut brings one of the best open-world action games to the PlayStation 5. The developers, Sucker Punch, delivered a mighty punch with their samurai sandbox as the game became an instant hit. While the PlayStation 4 version was great in its own right, the game shines with a faster and more stable frame rate. It came as a surprise how well Sucker Punch managed to bring old Japan to life, considering it was their first foray into stealth and melee combat.
The game gives you so many options to tackle any encounter. You could go the stealth route and relive the memories of playing Tenchu (it was an epic stealth game back in the day). Or you can straight-up challenge foes to a duel. Usually, games favor one playstyle over the other, but Ghost of Tsushima: Director's Cut strikes a good balance between the two.
Ghost of Tsushima: Director's Cut also uses the PS5 controller to further immerse you into its ancient, stylized world of Tsushima. The haptic feedback, along with the adaptive triggers, provides an additional sense of belonging to the players, making it one of the best PS5 exclusives currently available.
The PS5 version targets 60 FPS with dynamic 4K, 3D audio support, and lip sync for Japanese voiceover. These features further elevate the PS4 version into the definitive edition of the title. If you already own the PS4 version, you can upgrade to this one for $10.
Horizon Forbidden West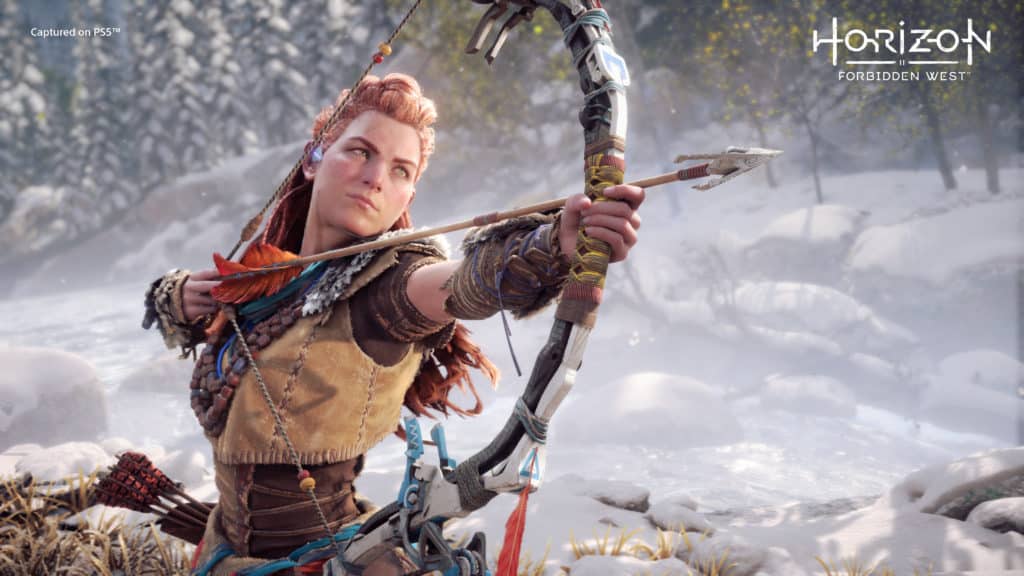 Release Date: February 18, 2022
Horizon Forbidden West is the direct sequel to the hit open-world game Horizon Zero Dawn. The new game is expansive and vast and brings improvements across the table. From stealth to exploration and from combat to navigation, everything gets an upgrade. The skills are expanded and improved, the controls are a bit better as well, and the responsiveness of the main character is fine-tuned too.
The cast is also fully fleshed out and offers unique perspectives throughout the story. Aloy is as witty and fierce as ever, not only just in combat but also in killing her enemies. There is also a new grappling hook for Aloy to use during navigation and exploration. The main star of the game is still the machines. They are intricately designed with strengths and flaws, flaws which you can exploit to make quick work of them during combat.
There are a lot of quests and activities for you to partake in. The melee combat against humans is improved by a huge margin and offers a lot of variety compared to the previous game. Melee combat isn't powerful against the machines, though, as it should be, you can't take down a metallic T. rex with a spear.
Death Stranding Director's Cut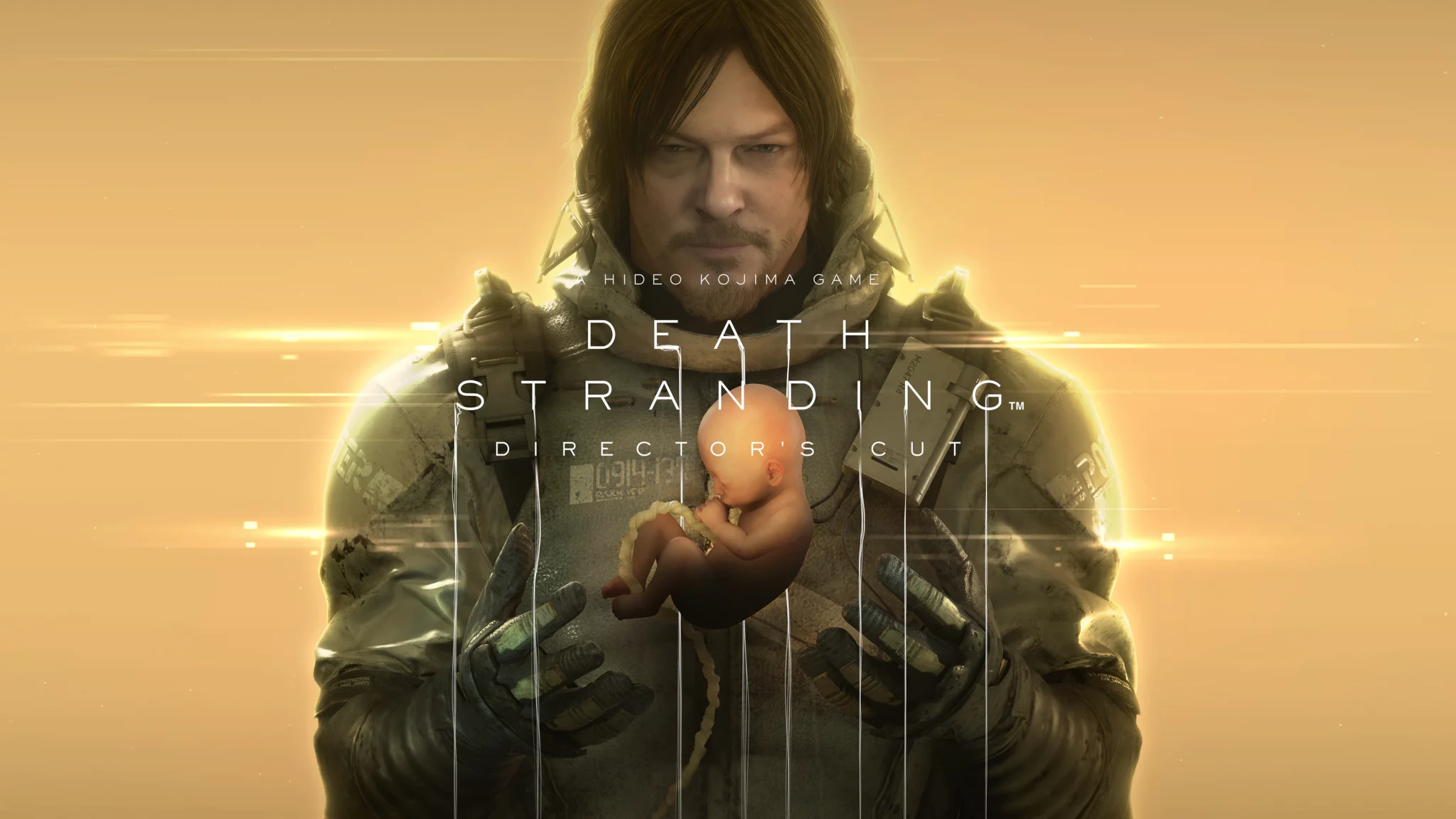 Release Date: March 30, 2022
Death Stranding Director's Cut expands on the original PS4 release in multiple ways with tons of new content for players to discover making it a worthy addition to this list of PS5 exclusives. This has a firing range, a racing track, new areas to explore, and missions to take on as well as PS5-specific technical features. You can now play Hideo Kojima's hit "strand type" game in either performance mode with scaled 4K and up to 60fps or fidelity mode in native 4K.
This version also uses Dualsense's haptic feedback and adaptive triggers, so when you're out there making deliveries, the experience is even more immersive. It also includes support for 3D audio, provided you have a compatible headset.
Death Stranding puts players in the shoes of Sam Bridges, who has to connect America by making deliveries. It's a Hideo Kojima game, and with that comes larger than life characters, insane twists, and an attention to detail only found in a game he's directed. For me, Death Stranding is all about the deliveries, the feeling of isolation, the amazing soundtrack, and the beautiful world Kojima Productions created. It looks insanely good on the PS5 and is worth a trip.
Uncharted Legacy of Thieves Collection
Release Date: 28th January 2022
Despite Naughty Dog's industry-leading visuals, set pieces, and character work, they managed to put out four titles on the PS4. Two of these, Uncharted 4 and Uncharted The Lost Legacy, are now packaged in a collection for the PS5 with higher framerate, improved visuals, faster loading, haptic feedback, and resolution support for 4K as well, fully utilizing the PS5's hardware. If you still haven't played these modern adventure classics, this is the best way to experience those.
These were great games on the PS4, and they're even better now on the PS5. Uncharted 4 takes Nathan Drake on his last journey, which isn't just fueled by his quest for adventure but tackles the personal ramifications of his actions too. It's a far more mature take on the character compared to the previous entries and one of the best games in the genre.
The Lost Legacy continues that tradition, and while not as long, it is a consistently rewarding game with lush open environments and deadly puzzles. The excellent character banter Naughty Dog has become to known for is on full display and a major highlight. You'll take on the role of Chloe Frazer, who ventures into India's Western Ghats with Nadine Ross to locate the Golden Tusk of Ganesh.
Marvel's Spider-Man Remastered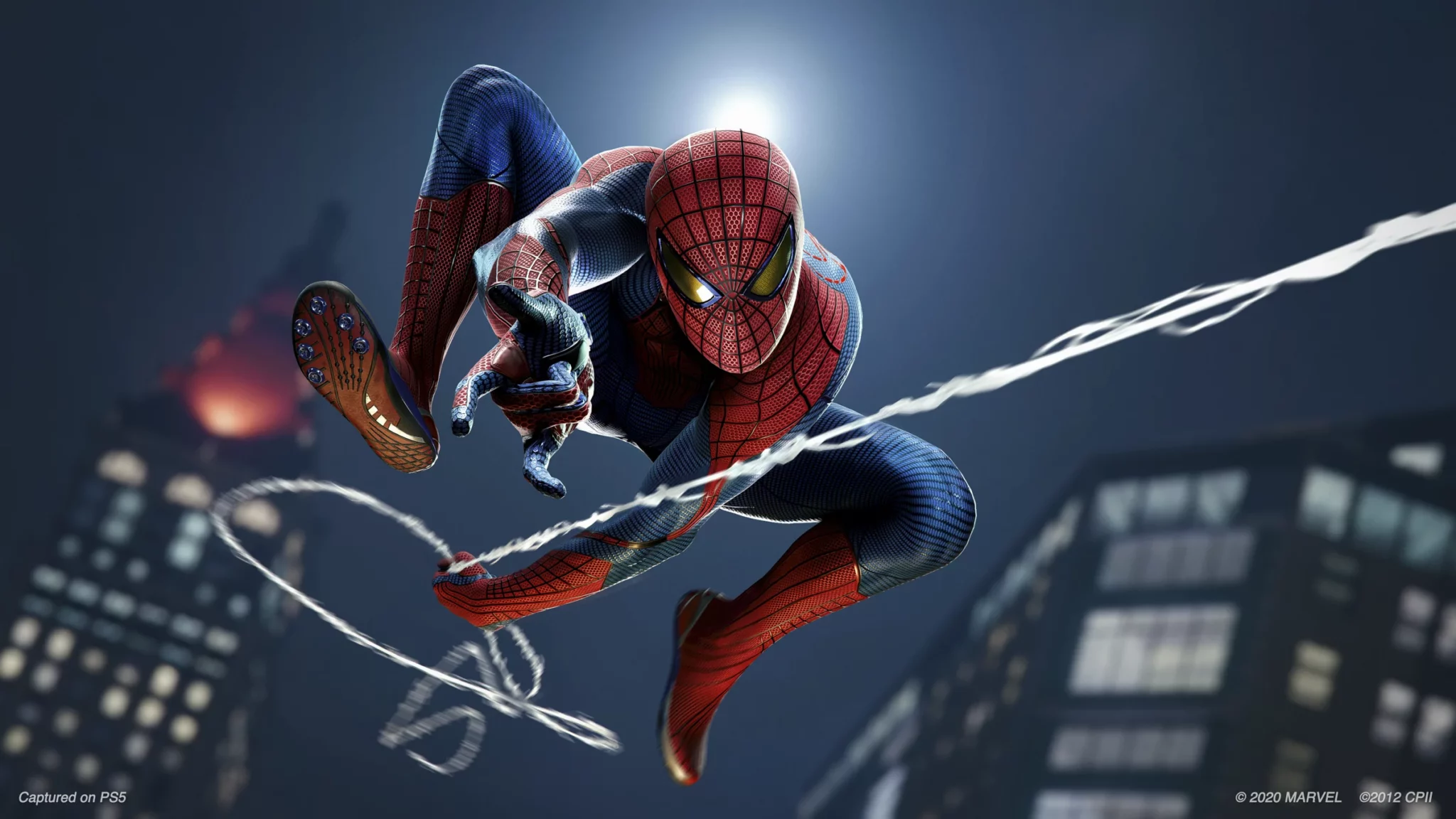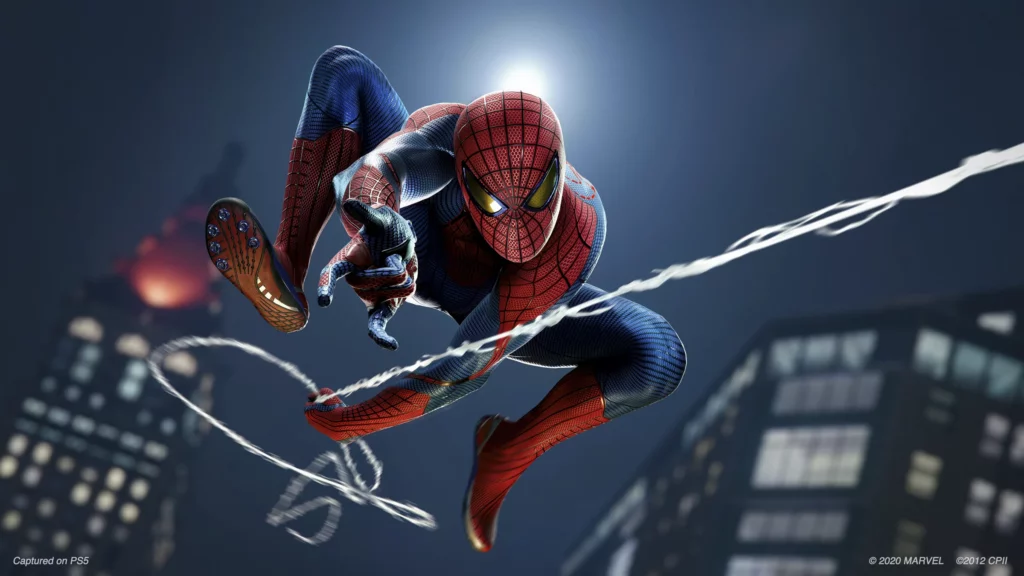 Release Date: 12th November 2020
If you somehow haven't played Marvel's Spider-Man yet, you're in luck because the PS5 version basically overhauls the technical aspects almost entirely. Spider-Man Remastered on the PS5 has better graphical assets, improved loading, 4K/60 FPS support, and ray-tracing support. Like other first-party titles, it also fully utilizes the Dualsense controller, and you'll be able to feel that while swinging around New York and using different gadgets.
Marvel's Spider-Man Remastered follows the story of Peter Parker as he goes against various villains in an open-world experience with collectibles to find and citizens to assist. It's one of the best stories in Spider-Man media that manages to hit all the right emotional notes with great writing and character work. Traversal is fast, combat is fluid, and Insomniac nailed the general "feel" of being a superhero.
One thing to keep in mind is that Spider-Man Remastered isn't available as a separate purchase. You need to buy Marvel's Spider-Man: Miles Morales Ultimate Edition, which includes the Remastered title as a bonus. Miles Morales is an excellent follow-up with a fantastic story and an even better combat system, and we highly recommend both titles for the PS5.
Final Fantasy VII Remake Intergrade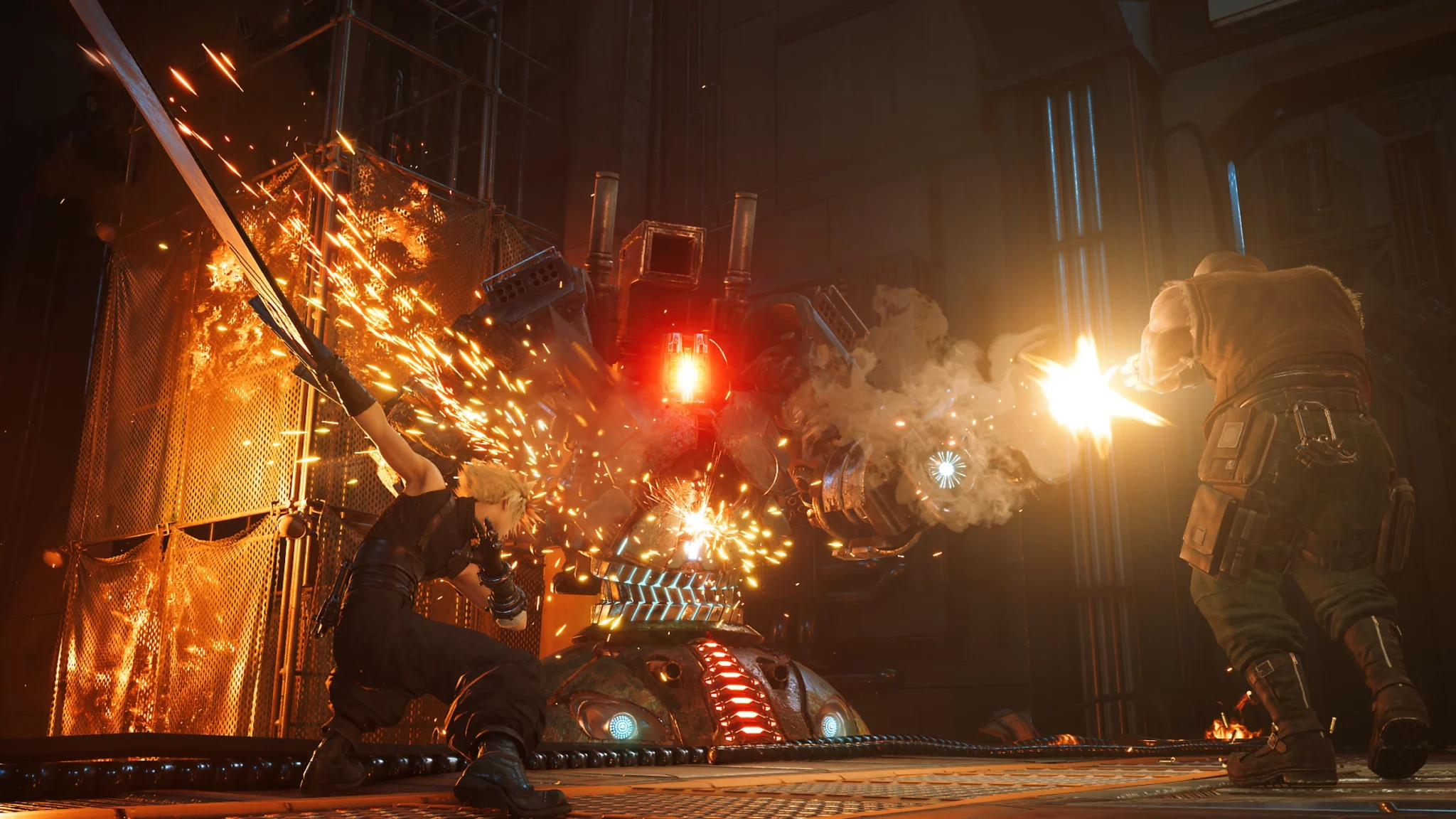 Release Date: June 10, 2021
While Final Fantasy VII Remake came out on the PS5, the Intergrade version was released exclusively on the PS5. This has improved visuals all around with better textures, lighting, and background environments. Players can also enjoy two graphical modes to choose from, one which prioritizes 4K visuals, while the performance mode plays the title at 60 FPS.
Intergrade also includes a new episode featuring Wutai ninja Yuffie Kisaragi as she infiltrates Midgar to steal the Ultimate Materia from Shinra. Additional content aside, Final Fantasy VII Remake is a stunning game with an unforgettable cast of characters, improved combat, with some interesting narrative changes. If you're a fan of the original, this is a no-brainer, and you have more to look forward to with Final Fantasy VII Rebirth to look forward to which continues the story of the first part of the remake. It's coming exclusively to the PS5 in late 2023.
If you own the PS4 version, you can upgrade to the PS5 edition for free, but that won't include the additional mission featuring Yuffie. This is one of the best PS5 exclusives you can enjoy on the system.
Destruction AllStars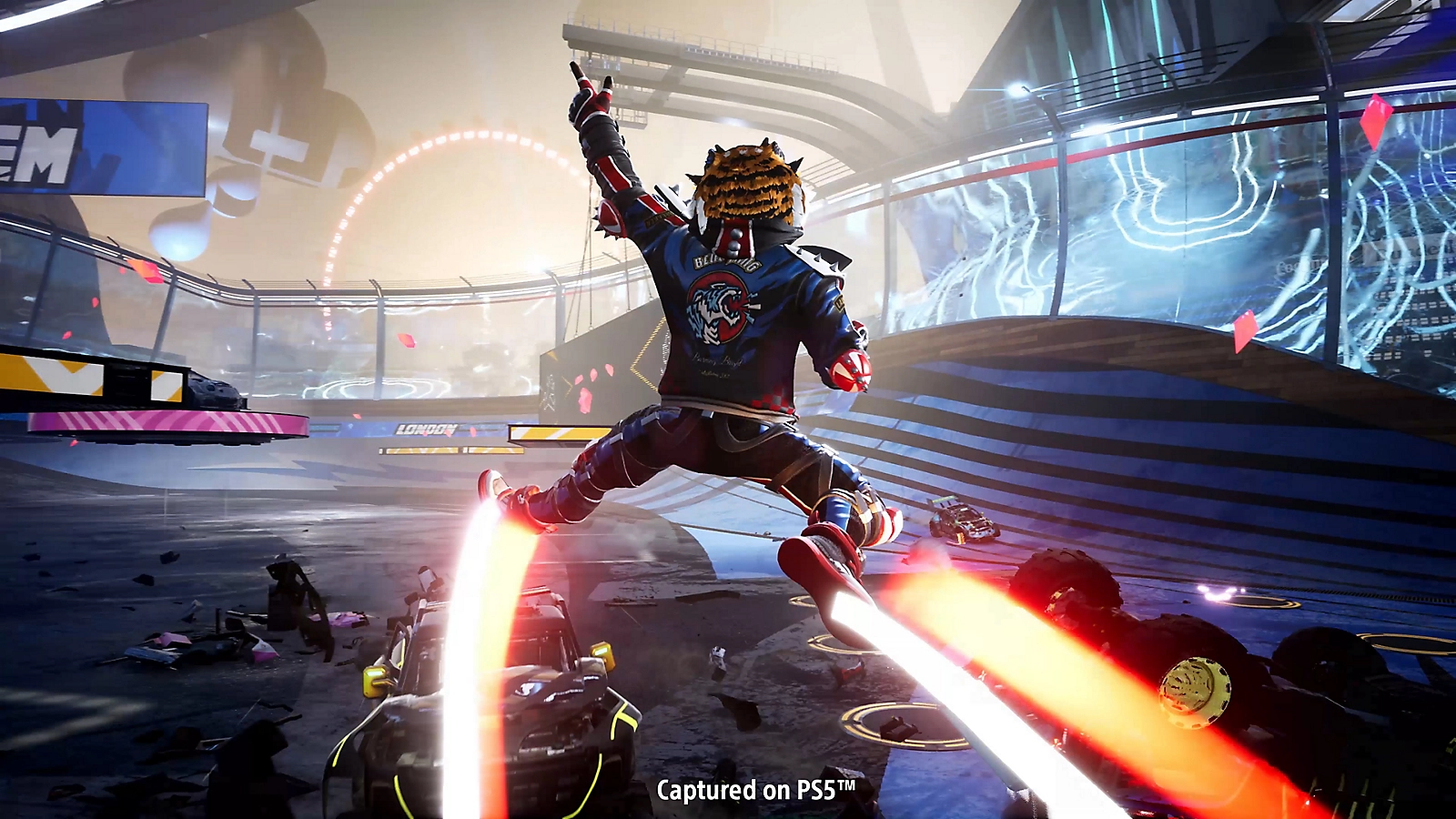 Release Date: February 2, 2022
There is always fun to be had when smashing your car against another and seeing it explode. I'm, of course, talking about playing video games like Flatout, Wreckfest, and the legendary Burnout Series. There's something amazing about hitting your opponents at just the right angle and doing serious damage. Destruction AllStars provides you with just that.
Destruction AllStars also has elements picked from different genres. Arena-based gameplay reminiscent of Rocket League and different characters, all with their unique powers, reminds us of Overwatch. So smashing cars, abilities, and a competitive arena all combine to bring you a unique experience in Destruction AllStars.
The main goal of the game is to remain in your vehicle, drive fast, and try to smash your opponents. Within a couple of minutes of booting up the game, you'll pull off satisfying moves thanks to the intuitive controls. We all know the harder they hit the cars, the more damage they will inflict. There is also a scoring system that gives you one point for a light hit and two for a medium one.
Thankfully, the driving itself is responsive and arcade-like. You won't find any simulation racing games like handling here, and everything is exaggerated and easy to control. Overall, the Destruction AllStars is a fun experience best enjoyed with a group of friends. It would've been a better game if the skills or the reward system went a little deep.
Conclusion
Sony has been pumping out incredible exclusive games for quite some time. The first-party developers under the PlayStation Studios umbrella are delivering high-quality experiences that are found nowhere else. Sucker Punch Productions, Insomniac Games, Naughty Dog, and Santa Monica Studio are all beloved studios with critically acclaimed and commercially hit video games.
These were some of the best PS5 exclusives that are out right now. There are plenty of other titles slated for 2023, including Marvel's Spider-Man 2, Final Fantasy 16, Forspoken, and more. We will update the list as more truly next-generation games get available on the PlayStation 5.