The PS5 is a powerful machine, but the PS5 Pro is an exciting prospect for gamers looking for even better performance out of their consoles. We love the PS5, but Sony advertised it as a 4K resolution 60 frames per second machine, which it is in some cases. However, in most games, we either have to choose full 4K resolution or smoother 60 frames-per-second gameplay.
The PS5 Pro should be able to bring true 4K 60FPS gaming to our TVs. Combing that with HDR and some great graphics of modern Sony exclusives, we have a winning combination. I'm not disappointed by the performance of the base PS5, but I've seen the green pastures of high frame-rate gaming on PC and cannot wait to play PS5-exclusive games at a higher frame rate.
The demand for a high-performance PS5 was always there from the start, too. Rumors suggested Sony would release both the PS5 and PS5 Pro together to cater to budget-conscious and hardcore gamers alike. However, as we know, we only got the Digital-only and Disk versions of the PS5.
PS5 Pro Release Date
History tells us that Sony would release the PlayStation 5 Pro a few months later than the PS5 Slim. At least that was the case last generation with the PS4 Slim and PS4 Pro. However, unlike the Slim version, we don't have a long history of Sony releasing mid-generation upgrades. There was never a PS3 Pro, PS2 Pro, or PS One Pro.
The PS4 was launched in 2013 and the PS4 Pro model was released in 2016. Going by their pattern, the PS5 Pro release date should be late 2023 or early 2024.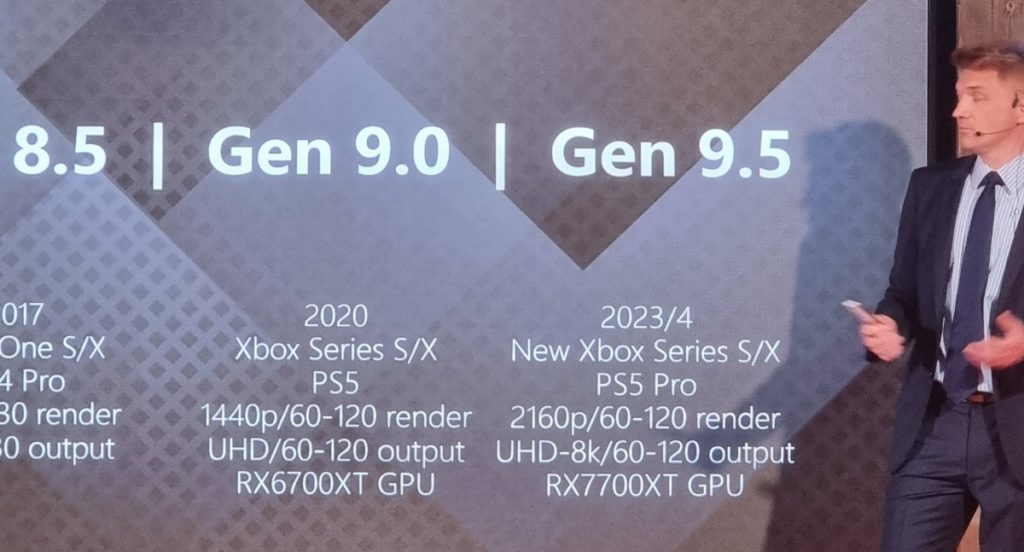 A Polish website PPE recently got some photos at a TCL event. TCL is a major TV brand getting traction for its affordable yet technologically modern TVs. The photos show TCL's plans and include the new PS5 Pro and Xbox Series console. According to the photos, Sony might release the console around 2023/4.
Of course, TCL doesn't have any official TV partnership with Sony. Sony makes their TVs, so a collaboration with a majorly Chinese brand seems a bit far-fetched. So there's a big chance TCL is also speculating about the mid-generation console update here. Regardless, their guesstimate seems to match ours.
Do We Need A PS5 Pro?
Many argue that a PS5 Pro would not only be hard to make but also can't be justified from a business standpoint. Folks over at Digital Foundry did an excellent analysis of the current global situation and concluded that the PS5 Pro is still far from release.
The global chip shortage is getting better. Even getting a good GPU is hard, thanks to scalpers. Making a custom AMD Zen 2 chip and graphics card is how both Sony and Xbox power their consoles. Hopefully, any remnants of pandemic supply chain issues will be ironed out soon, and we'll get a steady supply of both consoles and other electronics.
That being said, the PS5 Pro is expected to come with a GPU that is on par with the RX7700XT. This AMD GPU is yet to be released and is expected to launch later in 2022. The TCL leak has proven fruitful in this regard, and we have some crumbs of information to go on.
Speaking of the RX7700XT, TechPowerUp states that the GPU will have 8 GB of GDDR6 RAM, a 128-bit memory bus, a clock speed of 1800 MHz that can be boosted to 2200 MHz, and 4096 shading units. The specs seem to be impressive, but we won't have any conclusive results until the GPU is released later in 2022.
The TCL leak also claims the PlayStation 5 Pro will be able to hit 2160p (or 4K) resolution at 120fps. It will also have support for 8K at 120fps as well. Bold claims, but unless we see games running at these frame rates and resolutions, it will be hard to believe.
PlayStation 5 Pro Specs
The PS5 Pro features need to be both powerful and stronger than the base PS5 to earn the "Pro" moniker. Though these are just speculation, we are hopeful that if Sony wants to beat their PS5 then these will be the specs they will have to aim for:
CPU
Previous gen consoles were shackled by their low CPU power. The new gen is a bit liberating for developers. We can use a bit more of that freedom in the PS5 Pro though. AMD Zen 4 Ryzen 7000 series CPUs were recently announced with the release date of September 27, 2022. They are also made with a 5nm process and come with DDR5 memory controllers and a PCIe 5.0 interface.
They also have ~29% generational gain in single-threaded work, ~28% performance-per-watt gains, and ~45% improvement in multi-threaded workloads. This means the CPUs will be a powerhouse.
Sony usually uses custom AMD chips in their machines, but those are usually molded after existing/pre-production hardware. If Sony is going with tradition, we'll see some drastic improvements in the new custom AMD chips used in the PS5 Pro.
Related: PlayStation 5 6nm Die Spotted in CFI-1200 SKU
GPU
The newly announced Navi 3 graphics using AMD's RDNA 3 GPU cores might see its console doubt inside a PS5 Pro. The graphic cards are rumored to release later in 2022 with a release as early as October. The GPUs are made with a 5nm process providing more power and being power efficient. We have to see how well the cards perform, and hopefully, Sony is closely watching too.
Storage:
The PS5 already has a pretty fast SSD. It makes loading games faster and, in some instances, like Spiderman: Miles Morales, almost instant. Developers are not taking full advantage of the crazy fast SSD inside the PS5. Only a couple of games like Final Fantasy VII Remake utilized the faster read speeds in a tangible way. The PS5 Pro should at least have a faster SSD and must have more storage space than the 800 GB or so found on the PS5.
Resolution and Framerate
When PS5 was released, Sony was seen boasting about 8K gaming. There weren't games to test that theory out but eventually, The Touryst came out for PS5 which was capable of displaying images in 8K 60FPS. In reality, every image was being downsampled using "extreme supersampling". The output did seem like 8K but was not actually.
So for PS5 Pro, we expect to see native 8K at 60 FPS so that Sony can live up to that 8K claim which they made by releasing 8K TVs that were called "PS5 Ready".
PS5 Pro Design Speculation
PlayStation 5 is one of the chonkiest consoles to have ever been released. Considering the fact that it had to drive all of those pixels while staying as cool as a cucumber, I think Sony couldn't have shrunk it down further without compromising on the performance.
There have been countless people complaining that the PS5 takes too much real estate under their screen and honestly we agree with that. But you gain some and lose some. You don't always get everything in life.
PS5 Pro is supposed to be the bigger brother, the more powerful one, capable of driving 8K at a reasonable framerate, there is no way that it is going to be smaller and more compact than the PS5 and that is for sure.
Looking at Sony's past iterations of the "Pro" versions of their consoles, PS4 Pro was bigger than PS4, and for all the right reasons. Beefier hardware requires beefier cooling. So following the same pattern, we think that PS5 will be a tad bigger than the basic PS5.
Though there could be other design changes that are hard to predict at this point, the size is something we can surely speculate on because a bigger console is something that makes sense.
Related: Sony has Completely Redesigned PlayStation 5's Internals
PS5 Pro Price
The PlayStation 5 Pro is still a mystery. We don't know how it will look, how big it will be, and most importantly, we don't know its specs. As the specs are unknown, making guesses about the price is also challenging. What we can do is look toward the previous console generation and speculate how pricier the PS5 pro will be.
The PS4 launched at a price of $399 / €399 / £349. The PS4 Pro launched three years later at the same price. Sony also reduced the price of the original PS4 to make it more enticing for budget gamers.
On the other hand, the PS5 launched at the price of $499 / €499 / £449 for the standard disk edition and $399 / €399 / £359 for the digital-only one.
Sony recently increased the price of the PS5 in some regions by $50 or equivalent. Here are the regions affected by the increase:
Europe: PS5 – €549.99 / PS5 Digital Edition – €449.99
UK: PS5 – £479.99 / PS5 Digital Edition – £389.99
Japan: PS5 – ¥60,478 yen / PS5 Digital Edition – ¥49,478 yen effective Sept. 15, 2022 and includes tax
China: PS5 – ¥4,299 yuan / PS5 Digital Edition – ¥3,499 yuan
Australia: PS5 – AUD $799.95 / PS5 Digital Edition – AUD $649.95
Mexico: PS5 – MXN $14,999 / PS5 Digital Edition – MXN $12,499
Canada: PS5 – CAD $649.99 / PS5 Digital Edition – CAD $519.99
Sony cites inflation as the reason for the price increase. Their competitors, Microsoft Xbox and Nintendo Switch saw no increase in prices. The prices in the USA are to remain the same, but they might change in the future.
So if Sony is going to aim for tradition, we can see them launching the PS5 Pro for $549 / €549 / £549 as well. Due to uncertainty and unpredictable inflation, it is hard to settle down on a number for now.
Sony could also do the unthinkable and really beef up the mid-generation upgrade and price it a bit higher as well. The enthusiasts have been asking Sony to increase the price in exchange for a better, more powerful machine.
Would people be fine with an increased price if they are getting a much more powerful console? They've responded well to smartphones pulling this move, so chances are they might embrace the change.
Should You Wait For PS5 Pro?
No, you should not wait for the PS5 Pro. Our statement is based on the following reasons:
PS5 Availability Issues
The original PS5 was released in 2020 and between then and now, we have seen people struggle to get their hands on the console. Even after two years of being in production, partly thanks to COVID-19 which invoked a worldwide silicon shortage. The supply has gotten better but Sony has been having a hard time keeping up with supply and demand.
Releasing a new console will only open the floodgates for scalpers to clean the shelves out and upsell it for $100 more.
PSVR 2
The next thing to note here is that Sony is set to release the next gen of VR – PSVR 2 on February 22, 2023, which is supposed to be powered by the PS5. If Sony thinks that a PS5 is enough to power the PSVR 2 then I don't see a reason why anyone would wait for a PS5 Pro.
PS5's Untapped Potential
PS5 is already the most powerful console out there and developers haven't even unlocked its full potential yet. Only a few games have been fully optimized and the rest are on their way which means that your PS5 still has more power than you have been utilizing.
8K Gaming
If we talk about 8K gaming then it is still a little far ahead in the future. Sure, 8K screens have arrived but they are still really expensive and not as common. It will take time for them to become reliable and accessible to the masses and until that happens we are still going to be gaming on 4K.
Conclusion
The console is still a rumor and a sweet dream which might come to reality or maybe not. No one knows. Until that happens, you should try to get your hands on a PS5 and call it a day. It is still one of the best consoles out today and will surely satisfy your console needs.
The next big Sony event is going to be all about their PSVR 2. That is a genuinely exciting piece of hardware that we can't wait to play with. After that? We hope they at least announce a PS5 Slim or, better yet, a PS5 Pro.
The TCL leak sounds too good to be true, and they are probably speculating about the simple video output of the console. Games running at 4K and 120fps? That would be the dream but speaking about technical limitations, super beefy PC struggle to hit those numbers, what chance can a fixed-priced console have?
All of our questions will be answered around Christmas 2023 or early 2024, though. Meanwhile, you should check out the best PS5 exclusives and the best Games Available on PS Plus Extra. We'll keep our eyes and ears out for any news about the PS5 Pro. You can also check more stuff on PS5