The knife is an iconic weapon in CS:GO. It may not be used that often, but knife skins still fetch hefty prices because of their rare drop rates and beautiful looks.
Choosing the best knife to buy can be a tough task. Knives are among some of the most expensive CS:GO skins, so you'll need to be 100% sure before buying anything. With the 19 different knife types, each with its own skin variants, it's almost impossible to choose.
So we've decided to rank all 19 knife types in CS:GO to help you find the best one. Here are our picks for the best CS:GO knife types.
Butterfly Knife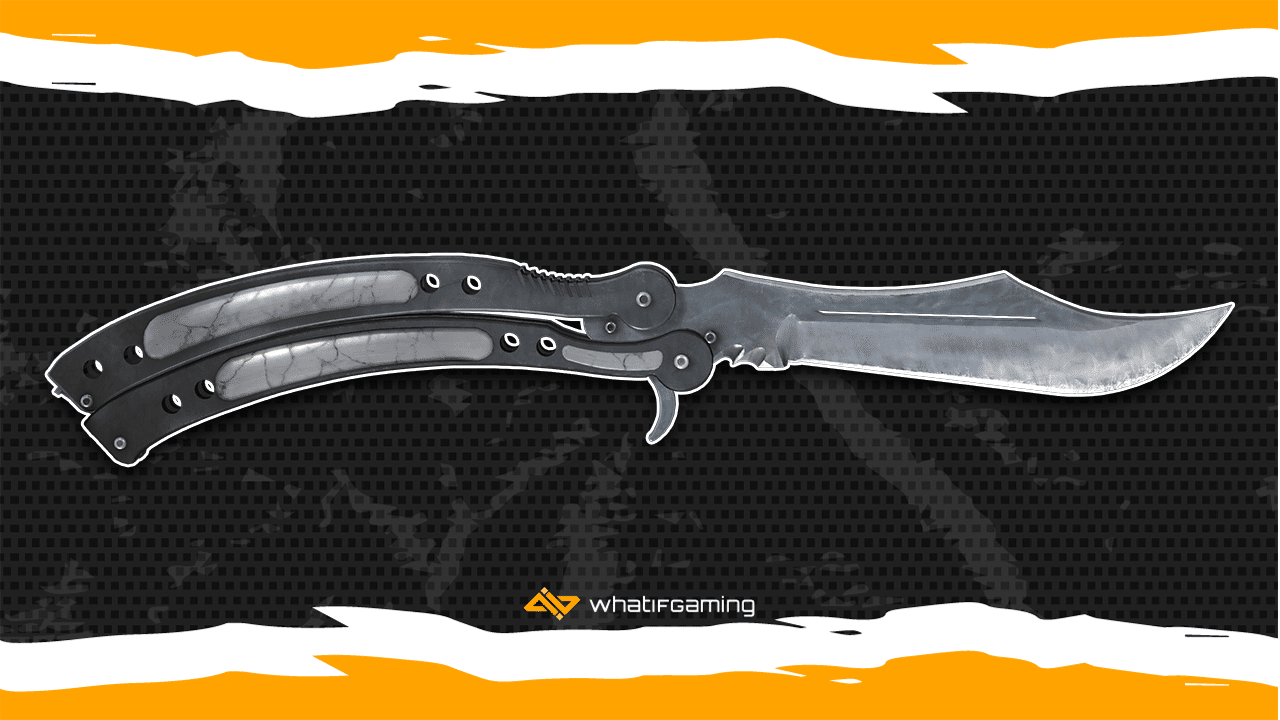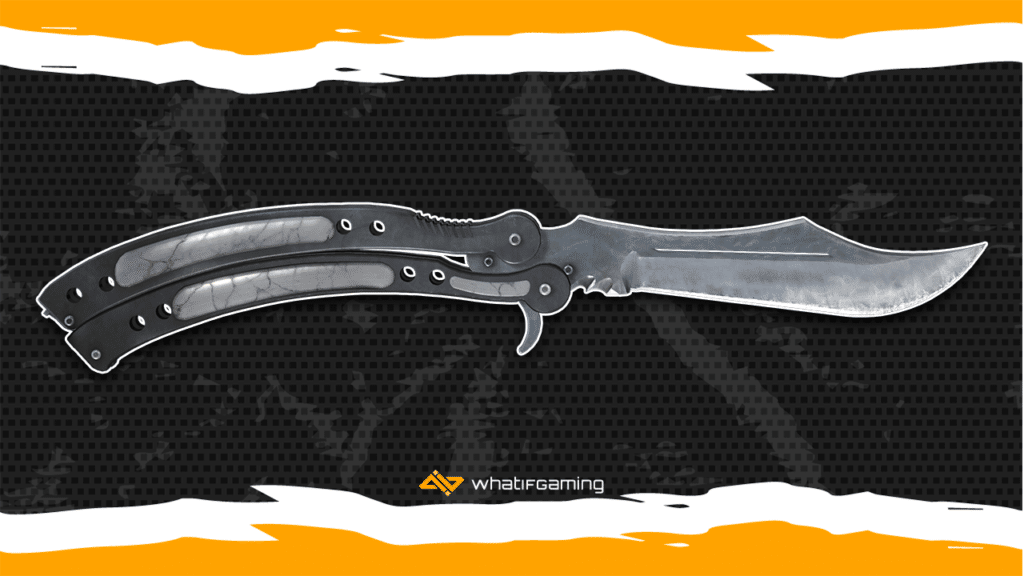 First up, the hands-down best CS:GO knife is non-other than the Butterfly Knife. The Butterfly Knife is a huge crowd favorite, so it's no surprise that it tops our list.
It's an overall well-balanced knife with two handles attached to the blade using hinges, allowing users to do a flurry of tricks.
It's a highly coveted knife because it looks amazing. It has an insanely entertaining inspect animation, a sharp-looking blade, and it just looks so stunning when held.
Unfortunately, there are no cheap Butterfly Knife skins due to its popularity. It's truly a real flex to own a Butterfly Knife.
Karambit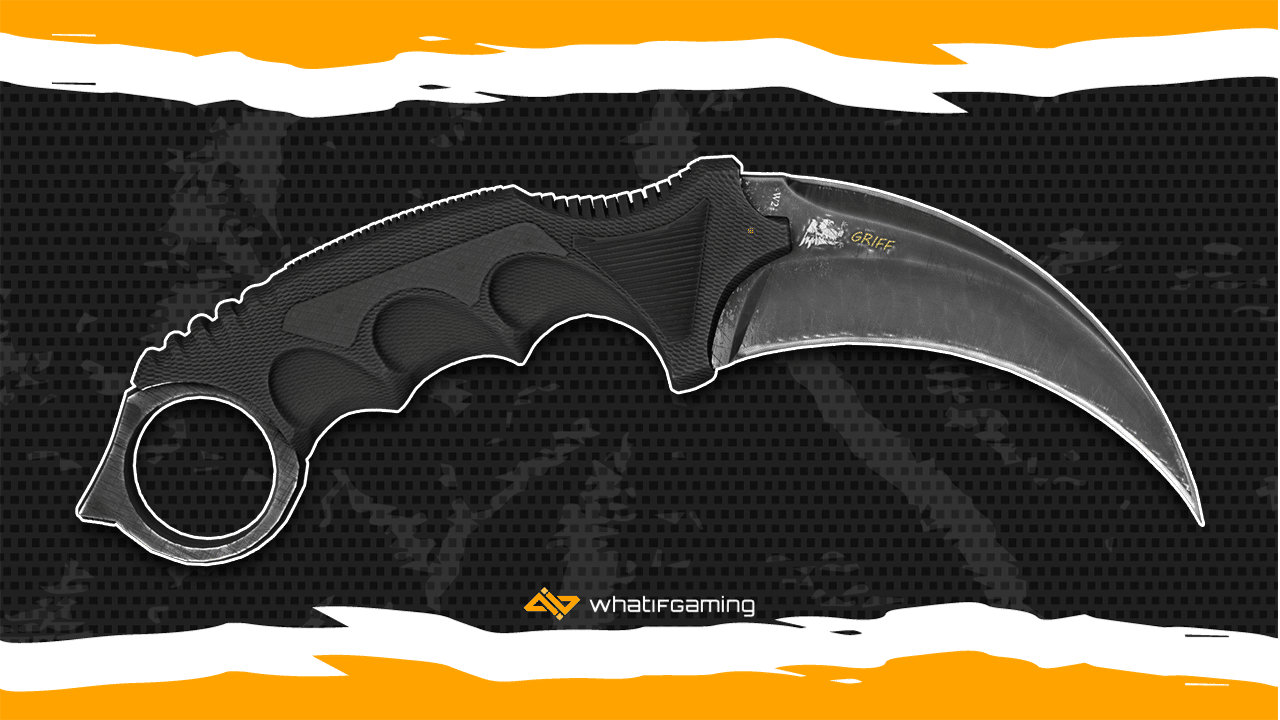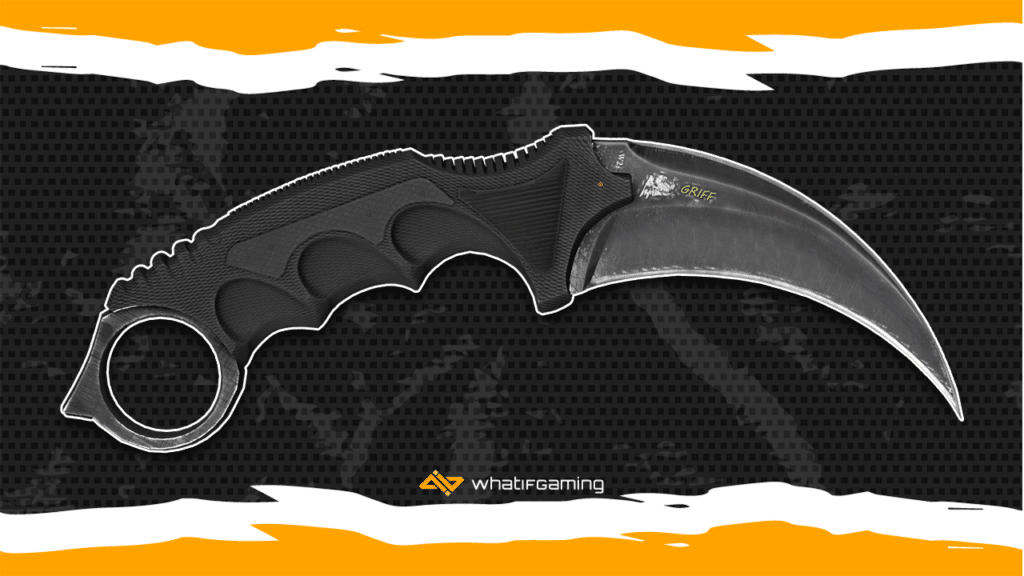 The Karambit is probably the only knife that can contest the Butterfly Knife's popularity. It's definitely one of the most iconic types and easily has the most recognizable shape alongside the Butterfly Knife.
It's an awesome-looking knife that has a curved blade made to resemble a tiger's claw.
Overall, it features a handle that fits well in the player's palm and allows you to showcase any Glove Skins you might have on.
It has great animations, solid finishes and skins to choose from, and it just has that "it" factor to it. It was a tough choice to not put it at the top, but you can't go wrong with buying a Karambit.
M9 Bayonet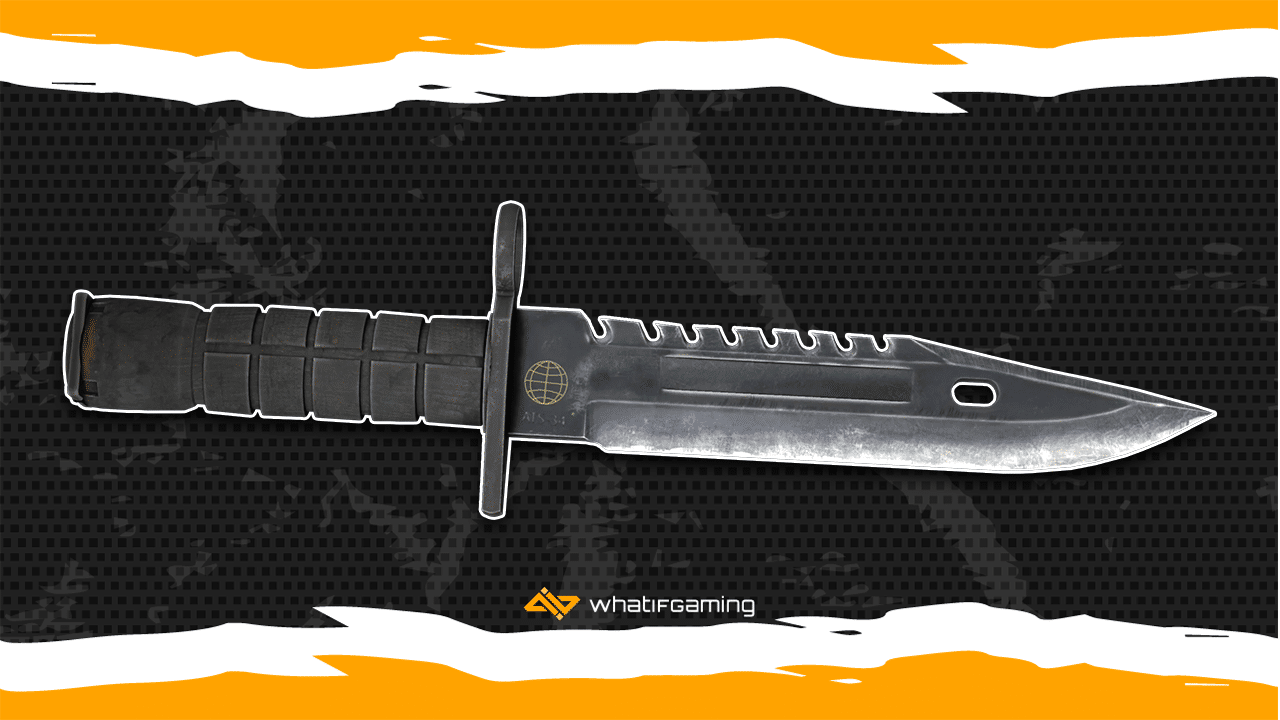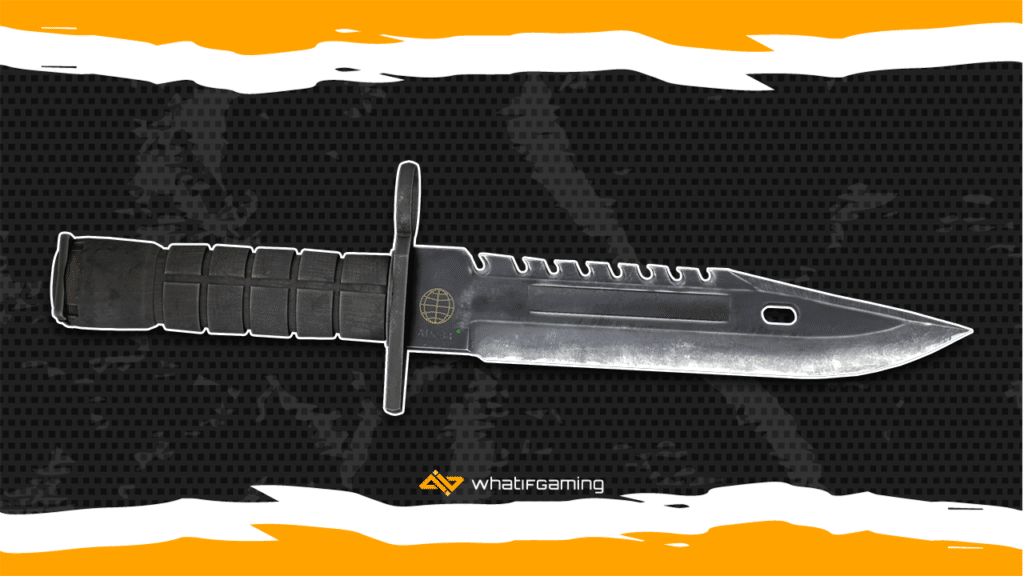 The M9 Bayonet is the first "chunky boi" on our list. It's comparatively bigger than the other knives, which means there's more for you to show off.
It's the regular Bayonet's brother and offers an upgrade over most of its aspects. It may not be as popular as our first two picks, but it's definitely still up there.
The M9 Bayonet looks more like a traditional knife actually used by the military. It has a large blade with jagged edges on one side and a sharp end on the other.
It also has a decent inspect animation, a great pullout, and a slashing and stabbing attack.
Skeleton Knife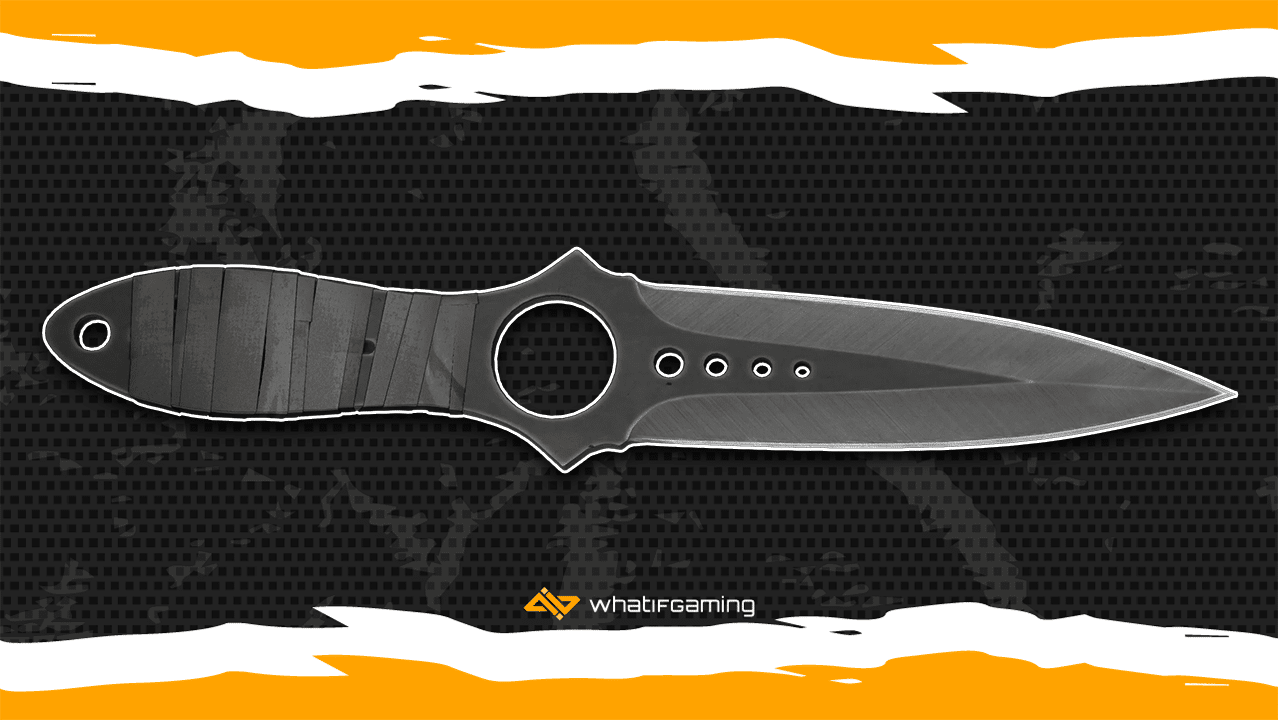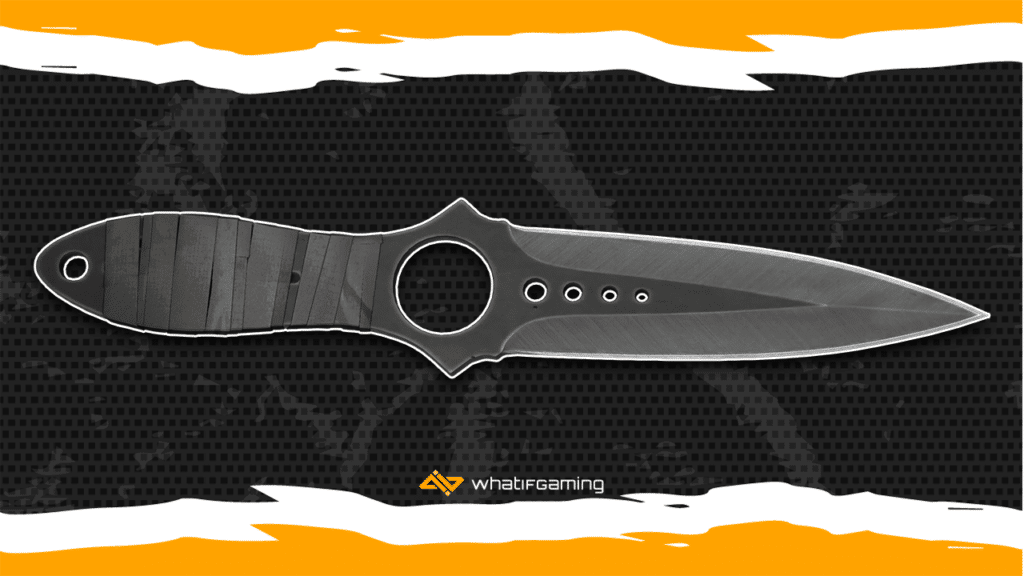 If you're looking for a more unique CS:GO knife, then check out the Skeleton Knife. It's one of the coolest knives in the game because of its sleek edge with a finger-hole design.
The Skeleton Knife is pure metal with grip tape wrapped around the base to create a handle. It also shares similarities with the Kunai, making the knife more awesome.
The Skeleton Knife looks more like a throwing knife than a regular slashing or stabbing knife. That's probably why it looks better than some of the other knife types in CS:GO.
It also offers solid animations with combinations of quick slashes and a top-tier inspect where you put your finger through the hole and spin the knife around.
Talon Knife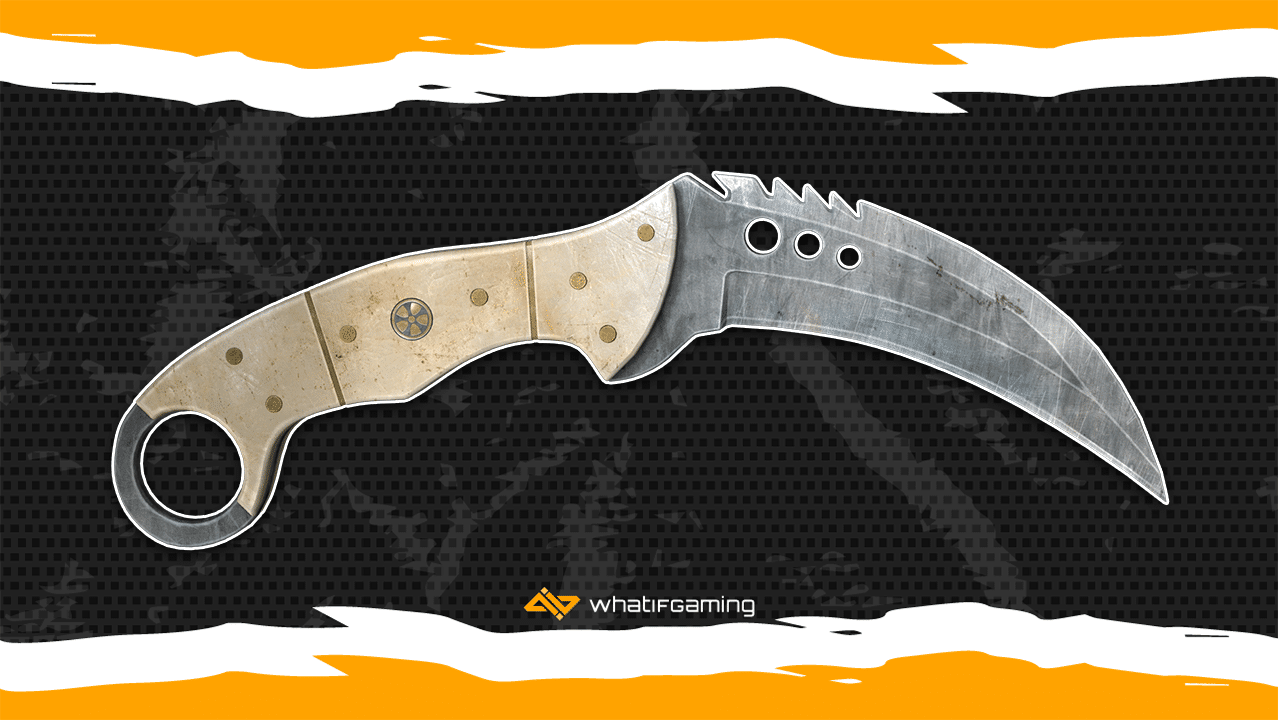 The 5th spot on our list of the best CS:GO knife types is the Talon Knife. The Talon Knife is often called the "budget Karambit" because of how similar the two knives look, but the Talon is still cheaper.
With that being said, the Talon Knife still offers some differences from the Karambit. It has ridges on one side, with a smoother claw-like edge on the other. It also has an ivory handle, making the handle stand out in most skins.
The Talon Knife only shares one inspect animation with the Karambit. It has a solid pullout, quick slashing attacks, and a satisfying inspect. What more can you ask for?
It's definitely one of the best CS:GO knife types if you like the Karambit.
Bayonet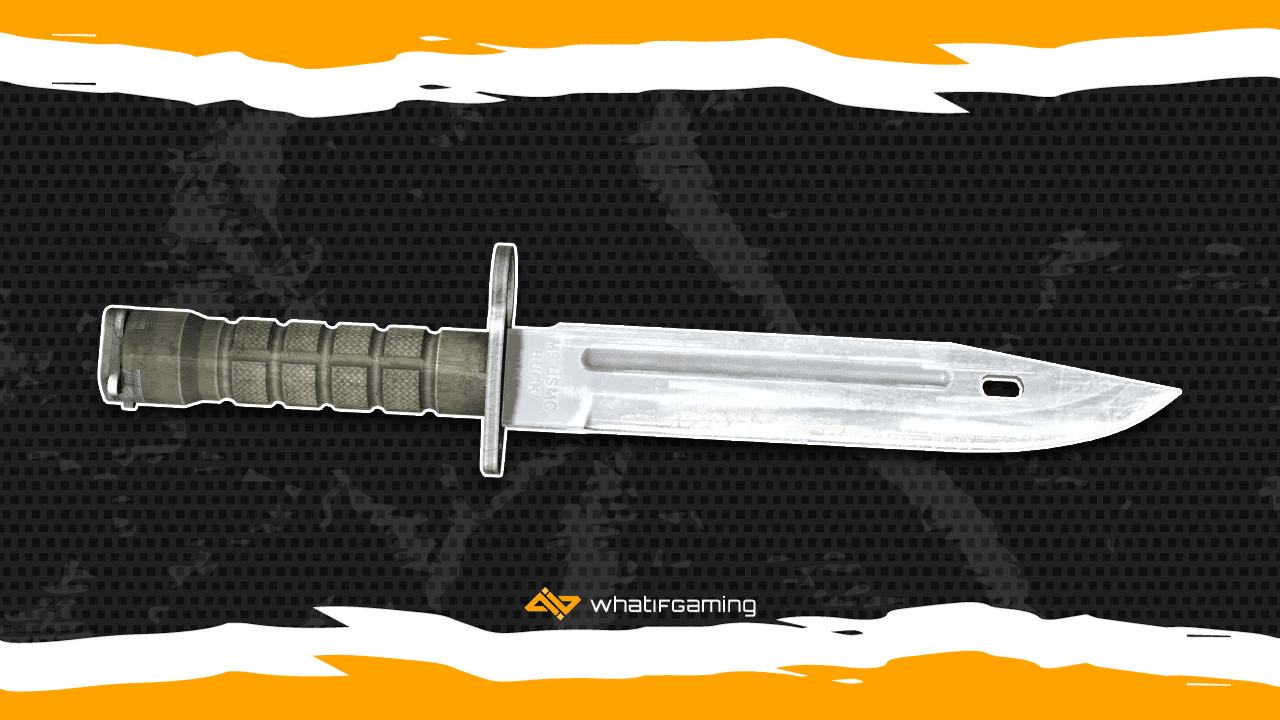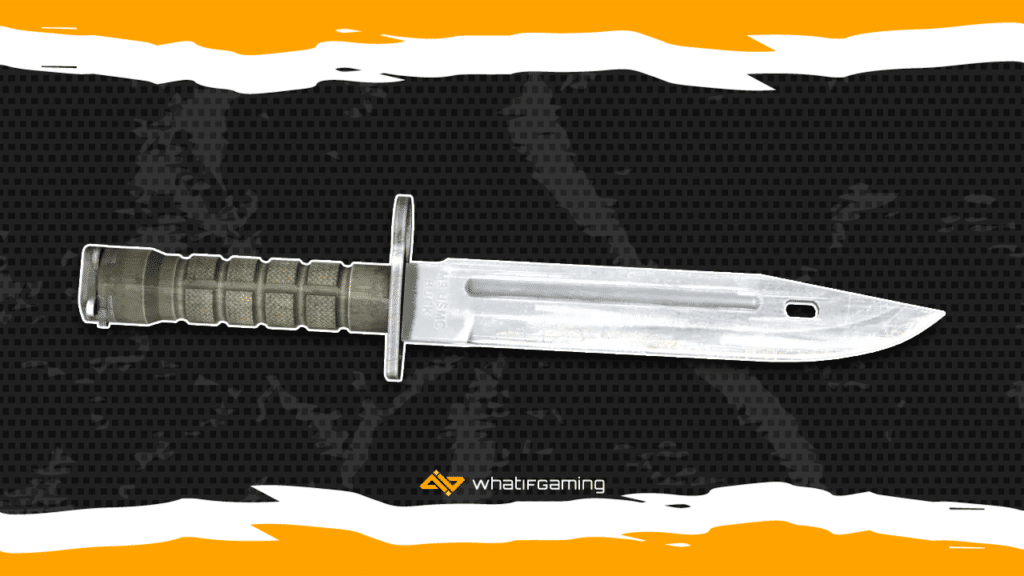 The classic Bayonet is up next. It was one of the first knife types introduced to CS:GO. This makes it a very old knife, yet it's still relatively popular in the community.
The Bayonet's main difference from the M9 Bayonet is its relatively smaller size and no jagged edge. Other than that, the two are quite identical.
Like the M9 Bayonet, the traditional Bayonet has been used in the military for years. This makes it the best CS:GO knife for anyone looking for a military-feeling melee.
It has a dope-looking pullout, a basic inspect, and a stabbing and slashing attack. Most Bayonet skins are also way cheaper than M9 Bayonet ones, making it a great choice for budget shoppers.
Paracord Knife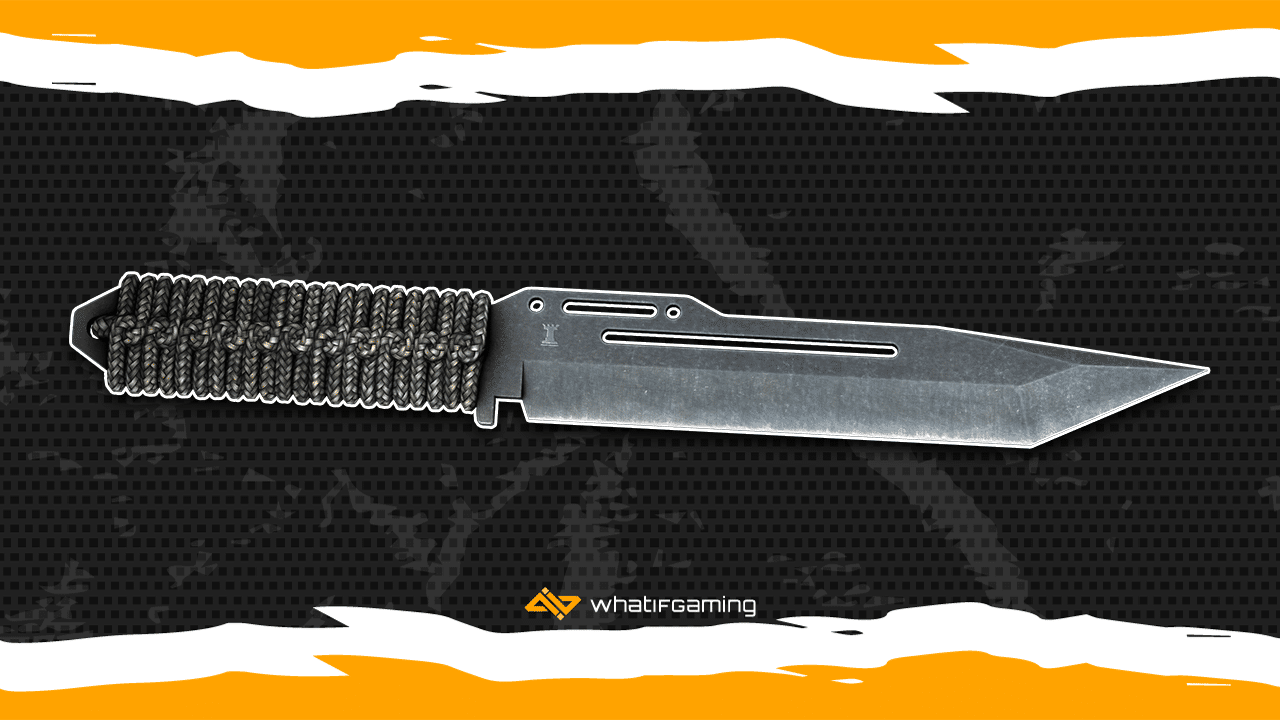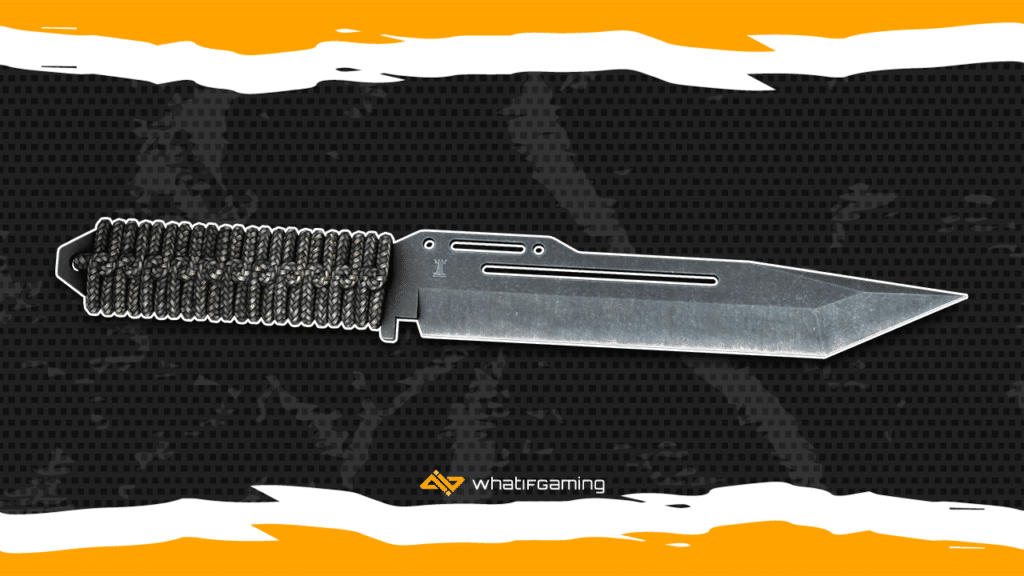 The Paracord Knife is another unique-looking knife thanks to its full metal design with a paracord wrapped around the base. It's designed as a multipurpose survival blade that can help you in any situation.
It has a simple pullout and a clean inspect, with basic slashing attacks. The animations aren't anything special, but the overall look is what sets this knife apart.
The Paracord has a unique-looking edge and comes with plenty of skins, all with different paracords wrapped around. Did I mention that it's also quite cheap?
Unfortunately, it's not as popular as some of the other knives, which is why it's a little lower on our list.
Stiletto Knife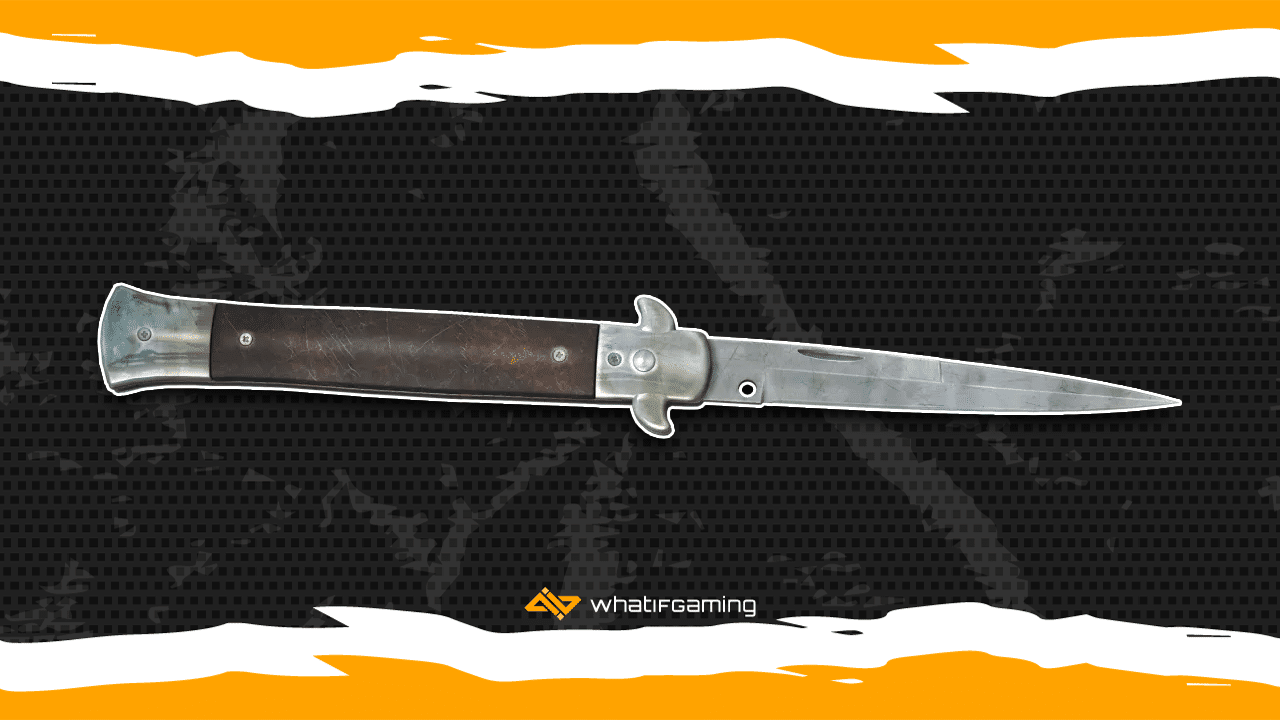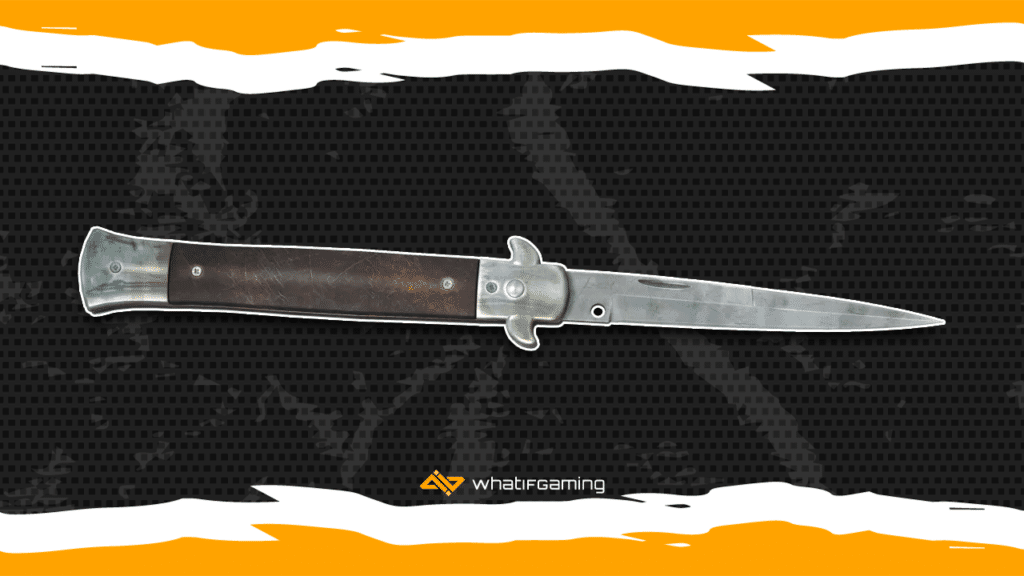 The Stiletto Knife is another knife type with a small-blade design. It's based on the Italian-style switchblade that's part of 15th-century history.
It's generally called the "toothpick knife" because of how small the blade is. However, the knife is still as deadly as the other ones, though, so no need to worry.
The Stiletto Knife has a decent pullout animation, with a pretty basic inspect, and some plain slashing attacks. It does have a rarer inspect variation that's a bit better than the base one.
I'd say that the Stiletto Knife is perfect if you're in the market for a formal-looking knife. It's also mid-range in terms of pricing, so it shouldn't break the bank that much.
Survival Knife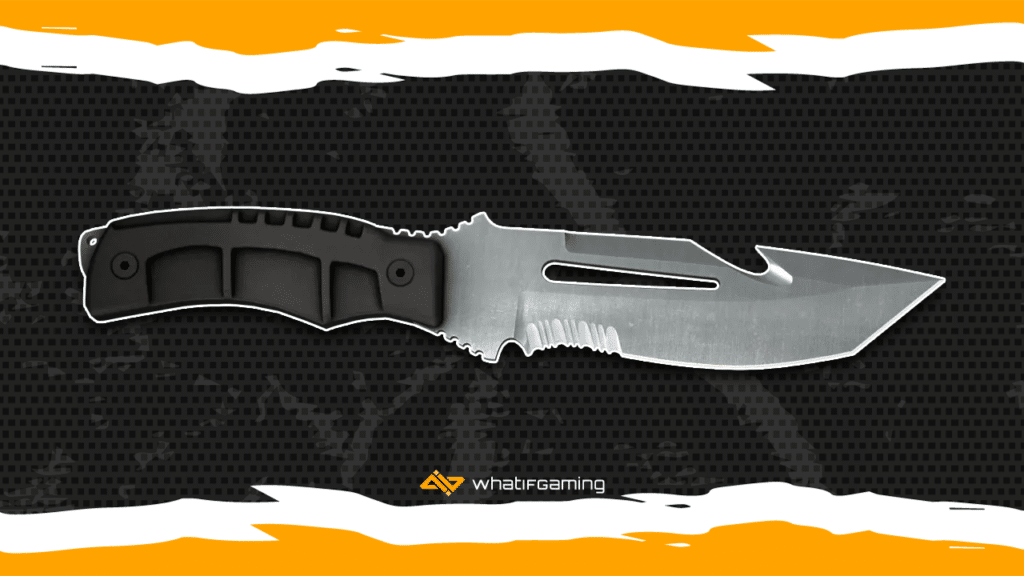 The Survival Knife is another relatively popular and cheap CS:GO knife.
It has a multipurpose design that just screams, "I'll keep you safe no matter what." It looks bold, deadly, and scary. Although, I do think it can be a bit hit-or-miss, mostly because it can seem over the top to some.
I personally love the design, though. The Survival Knife features a decent-sized blade, a small handle, a decent pullout, a basic inspect, and decent slashing and stabbing attacks. The rarer pullout where the player throws the knife and catches it does look insanely cool, though.
The Survival Knife isn't going to wow you with animations like some of the Valolrant knives out there. However, it doesn't cost an arm and a leg and still looks cool when held.
Classic Knife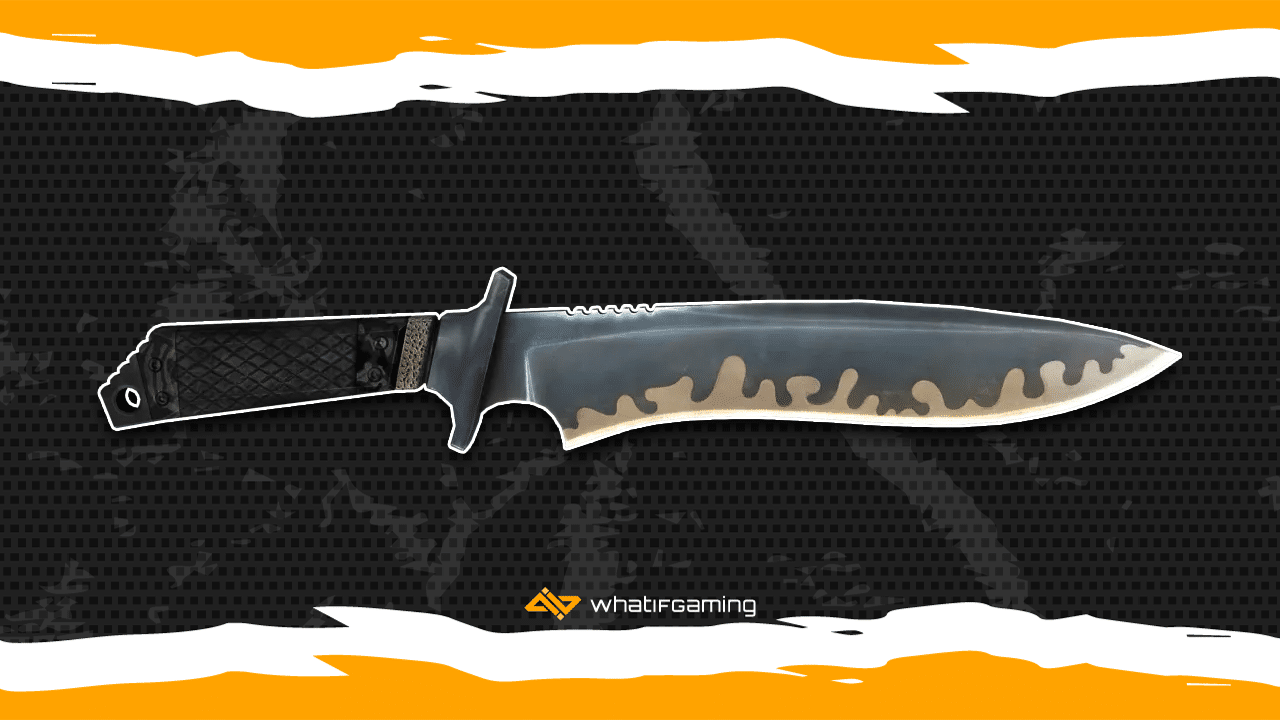 At the 10th spot, we have the Classic Knife. Don't get mistaken. This isn't the default CS:GO knife. It's actually the default knife used in the previous Counter-Strike games. This can bring a lot of nostalgia to a lot of veteran CS:GO players out there.
The Classic Knife features a decently-sized blade with a wave-like etching and a carbon fiber handle. Overall, it's about average in size and has a great curved edge to it.
The Classic Knife features a smooth pullout, a basic inspect, and a standard slashing and stabbing attack.
However, it also features two rare inspects where you flip the knife by throwing it in the air and another one where you hold the tip of the knife with your thumb.
Falchion Knife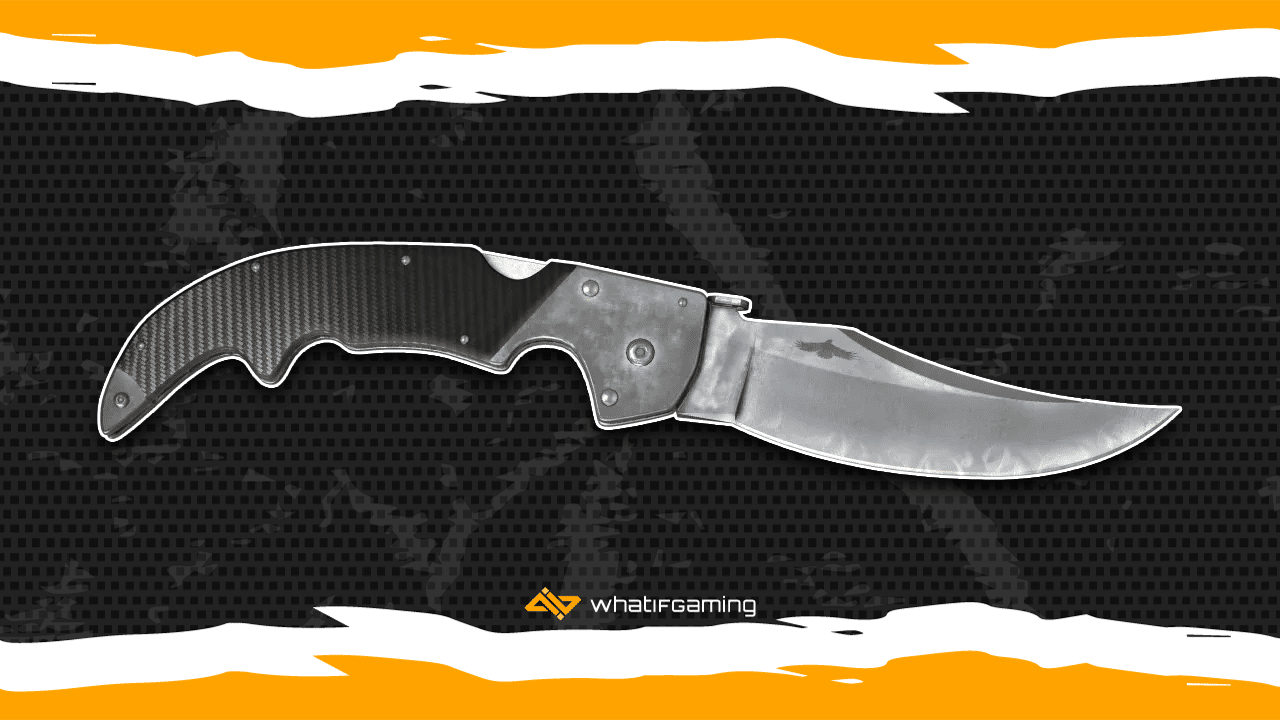 The Falchion Knife has not only an awesome name but also a solid design. It's named after the European Falchion Sword but doesn't share much of its qualities.
It's a decent-sized flip knife that shows colors and finishes throughout the blade and the handle. One common complaint is that the Falchion Knife has a small blade, which is why it gets some undeserved hate.
The Falchion Knife has a decent pullout animation, a solid default inspect, and good slashing and stabbing attacks. It does have a second rarer and more entertaining inspect animation where the player balances the knife on his hand.
I honestly feel like the Falchion Knife is very underrated and isn't as popular as it should be. At least, it results in overall lower skin prices, which is a win in my books.
Flip Knife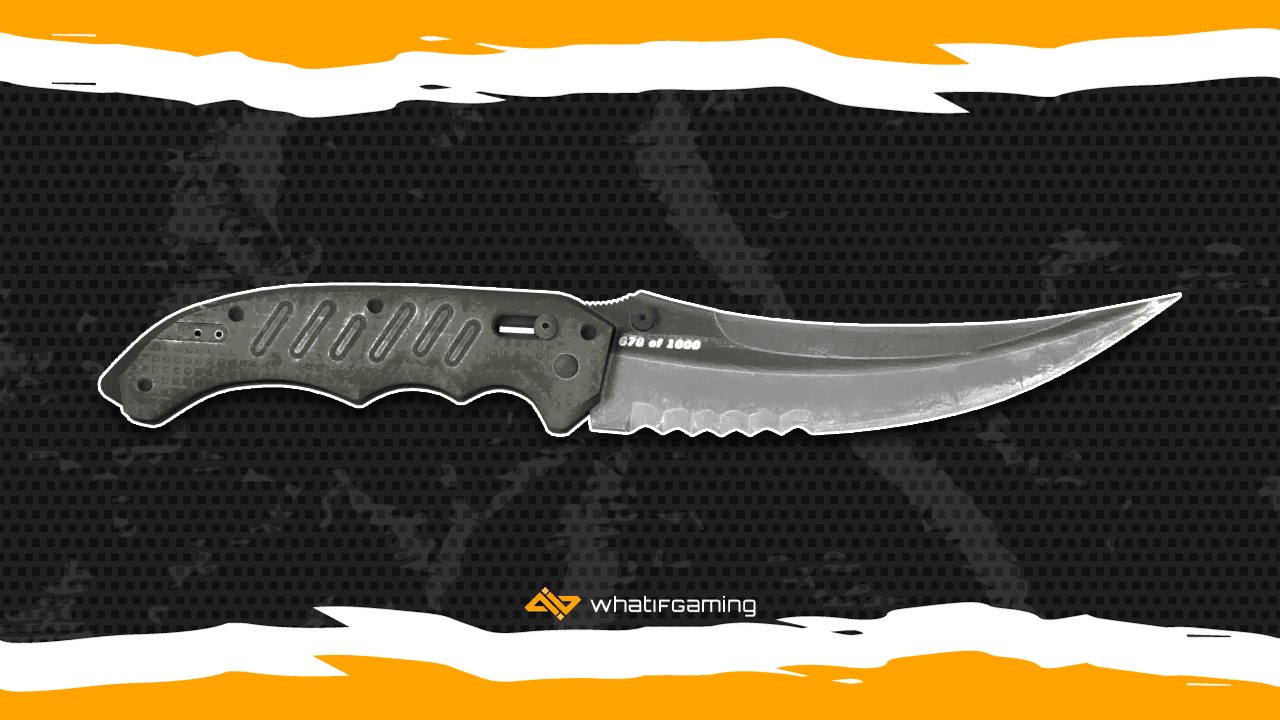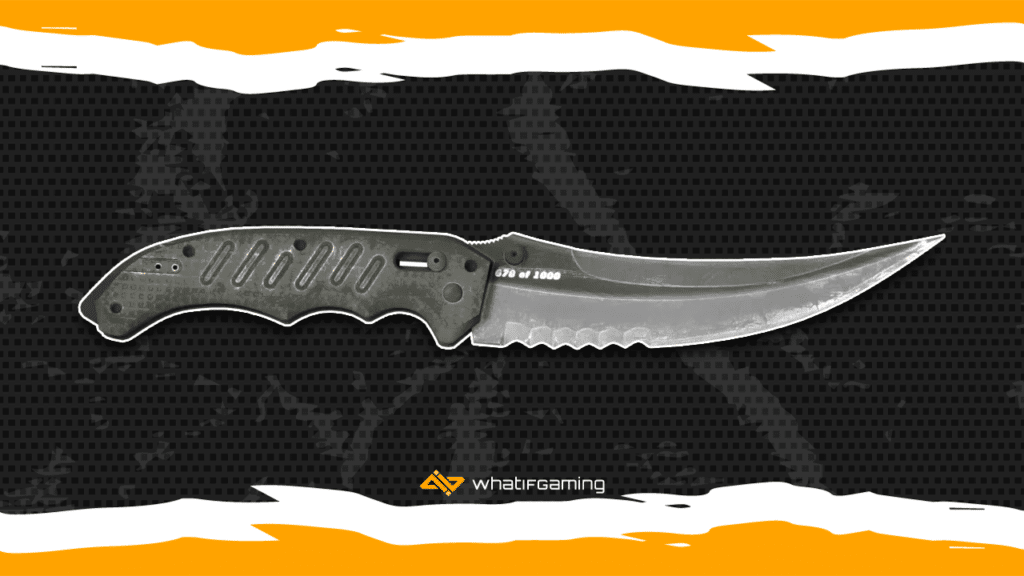 The Flip Knife is one of the smaller CS:GO knives. It features a curved blade with a serrated edge and a large handle, way too big for the blade.
Players often compare the Flip Knife to a bread knife because of how similar the two can be. It still has an overall decent design and is a relatively safe and cheap option if you're still undecided.
One of the major complaints about the Flip Knife is its simple animations. It has quite a good pullout, a plain inspect, and standard slashing and stabbing attacks.
You'd think that there would be more flipping animations because of the name.
Ursus Knife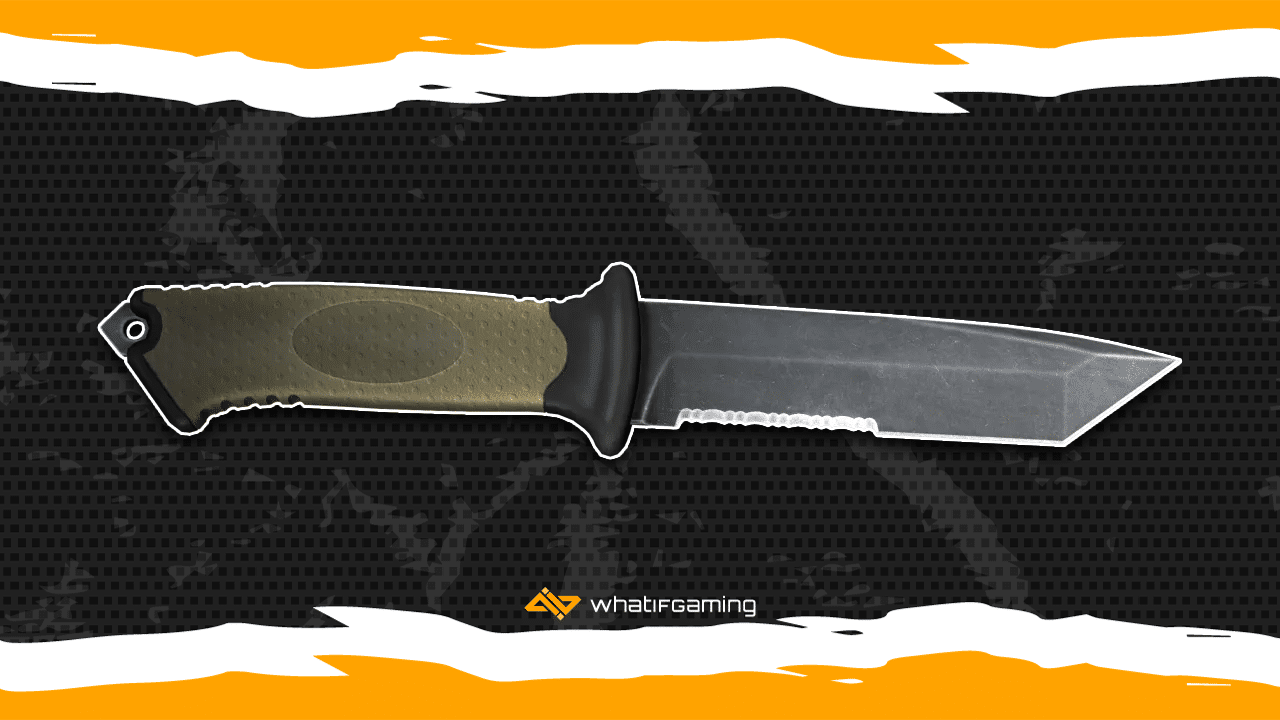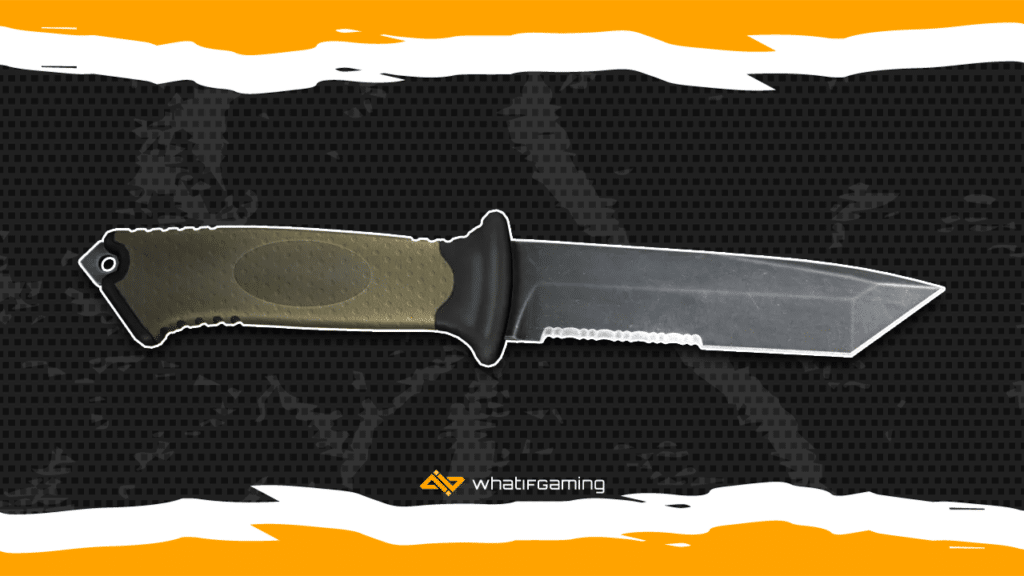 Next up, we have one of the crowd favorites when it comes to cheap CS:GO knives. The Ursus Knife is a smooth-looking knife with a sharp blade but has an ugly tan handle.
The Ursus Knife has decent pullout animation, a good inspect, and standard slashing and stabbing attacks. However, it has a rare inspect and pullout animation that looks amazing.
The rare pullout has you throwing the knife in the air before grabbing it. The rare inspect has you spinning the knife with your fingers.
Honestly, this knife would've been one of the best CS:GO knives in the game if it wasn't for the bad handle.
Nomad Knife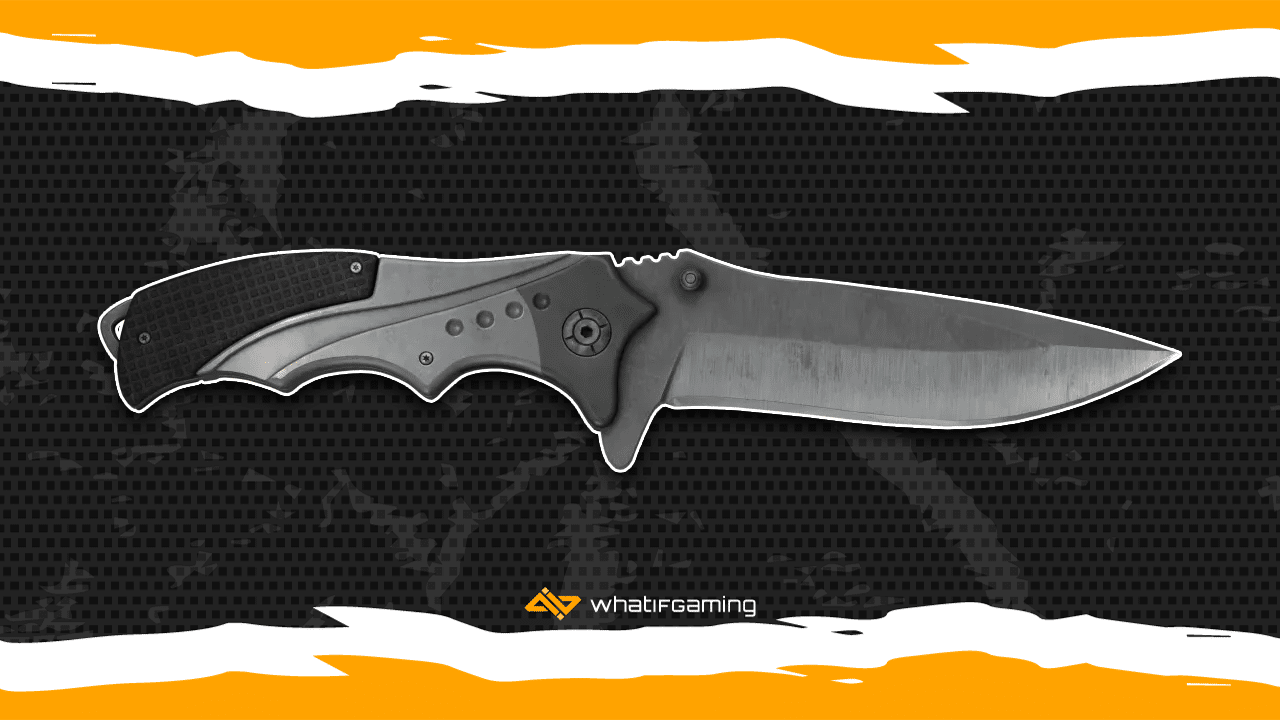 The Nomad Knife is a foldable knife that was designed to be a sturdy and broad blade. Its handle has a lot of detail to it with a black and silver theme. Luckily, the handle fits a lot of the skins well, so it shouldn't be much of an issue.
It didn't use to be as popular as it is now. But when s1mple used the knife, you already know that it's going to spike in popularity. I mean people copy everything about him from his crosshair, the mouse he uses, and even his skins. At least, the price remained quite affordable.
It has a pretty great pullout animation, an okay inspect, and decent slashing and stabbing attacks.
It does have an even better pullout where the player gets cut when pulling it out. There's also a rare inspect that has you flipping the knife on your palm.
Huntsman Knife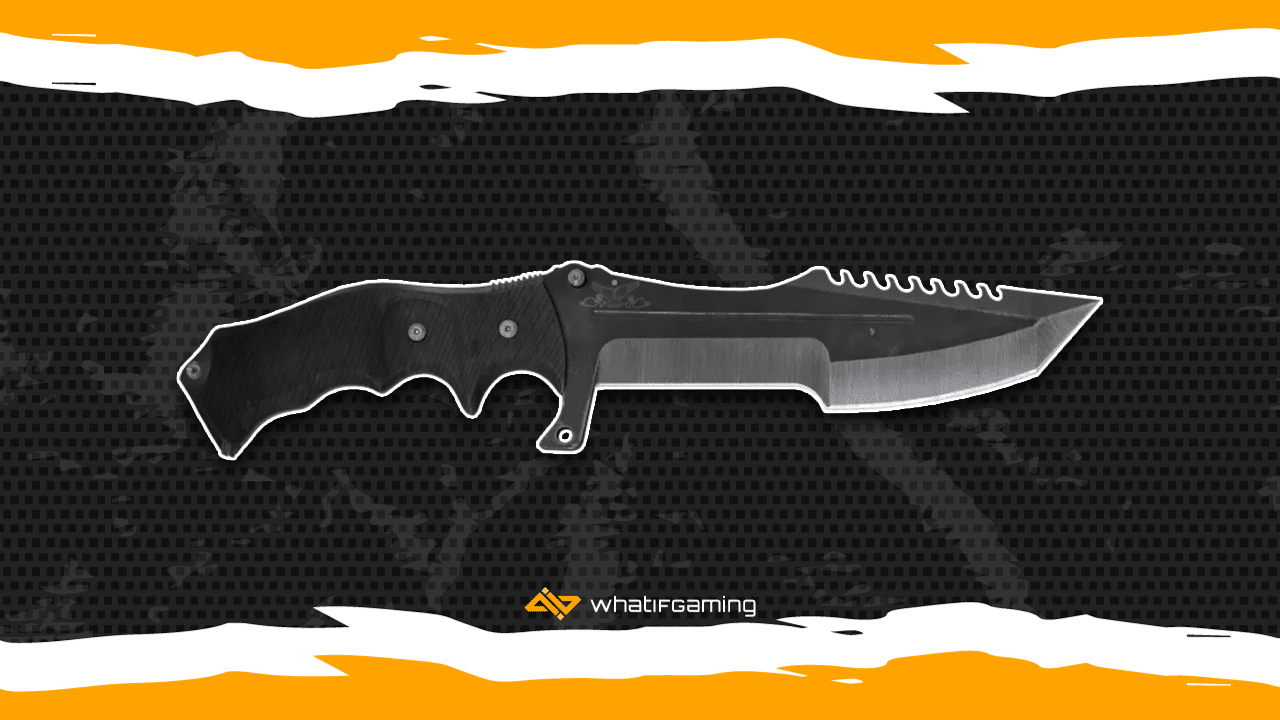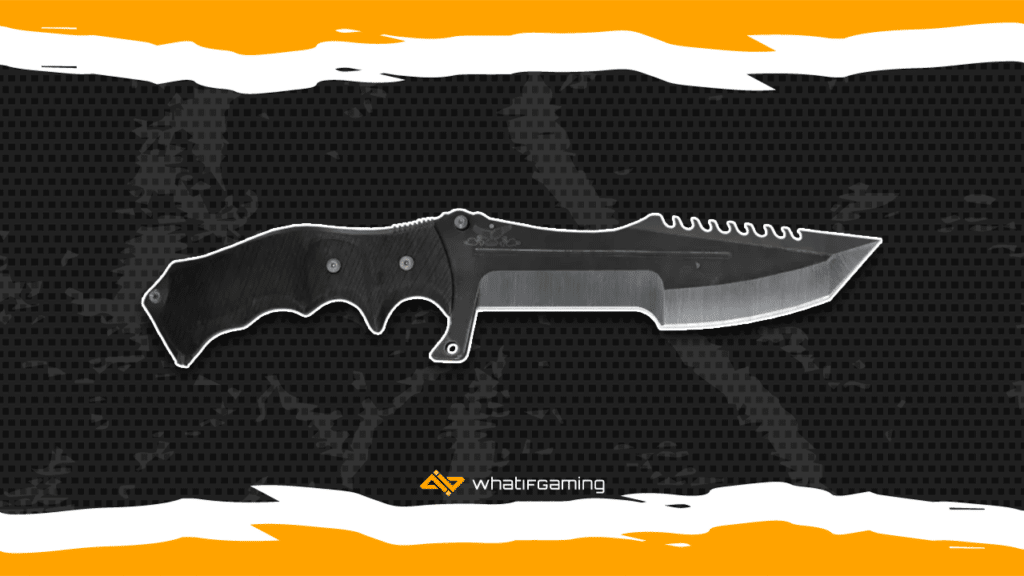 Next up, we have a huge boi with the Hunstman Knife. The Hunstman Knife has a jagged edge on one side and a razor-sharp blade on the other. It has a ton of edges, giving it that bulky and chunky feel.
The Huntsman Knife has a pretty good pullout animation. However, that's pretty much it. The inspect is pretty basic, and it has standard slashing and stabbing attack animations.
Unfortunately, the knife doesn't have any rare animations to save it.
Honestly, the Huntsman Knife can be a bit hit-or-miss. Some people like it, and some people don't. I personally think it's meh at best. But I don't judge the people who like it.
Gut Knife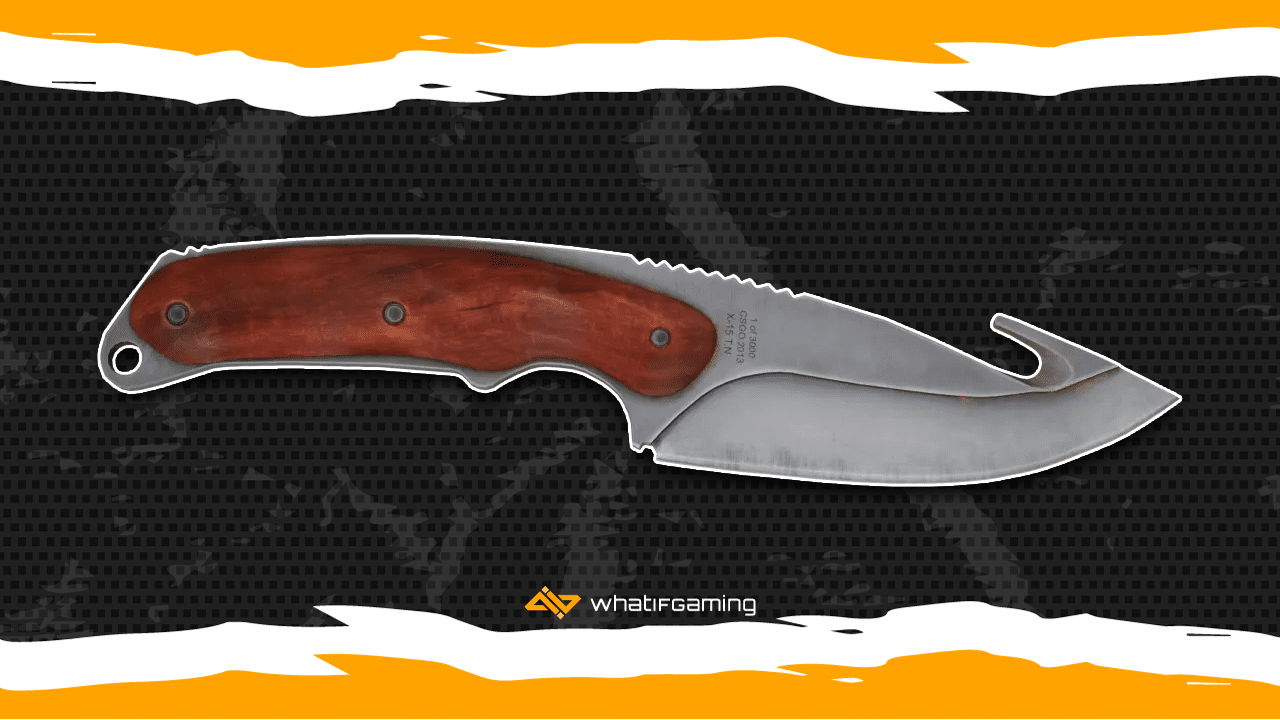 The Gut Knife is another large knife. It has a large blade and a chunky handle. It's also a part of the first knives released to CS:GO, making it one of the oldest ones in the game.
It has a gut hook at the end of the blade with some small jagged edges near the bottom. The Gut Knife is often called a "can opener" because of its design.
The Gut Knife has a pretty solid pullout animation that's basically the same as the Huntsman Knife. It then has a pretty basic inspect with standard slashing and stabbing attacks.
I personally like the Gut Knife's design. However, I can't rank it any higher, or else the entire CS:GO community will come for me. It's very cheap, though, making it great for budget buyers.
Bowie Knife
The Bowie Knife is one of the largest knives in CS:GO. It looks painful and deadly, especially because of the serrated blade on one side.
The overall shape looks like a small pirate sword to me. But it's built as a survival knife, and it's built to last.
It has a good pullout animation, a great inspect, and with some good slashing and stabbing attacks. It has some pretty great animations, even better than some of the other knives we've ranked above it.
Honestly, the Bowie Knife is pretty great overall. Unfortunately, it does have one huge issue: You can only see one glove when using the knife. Why pay for glove skins if you only get to see one, right?
Shadow Daggers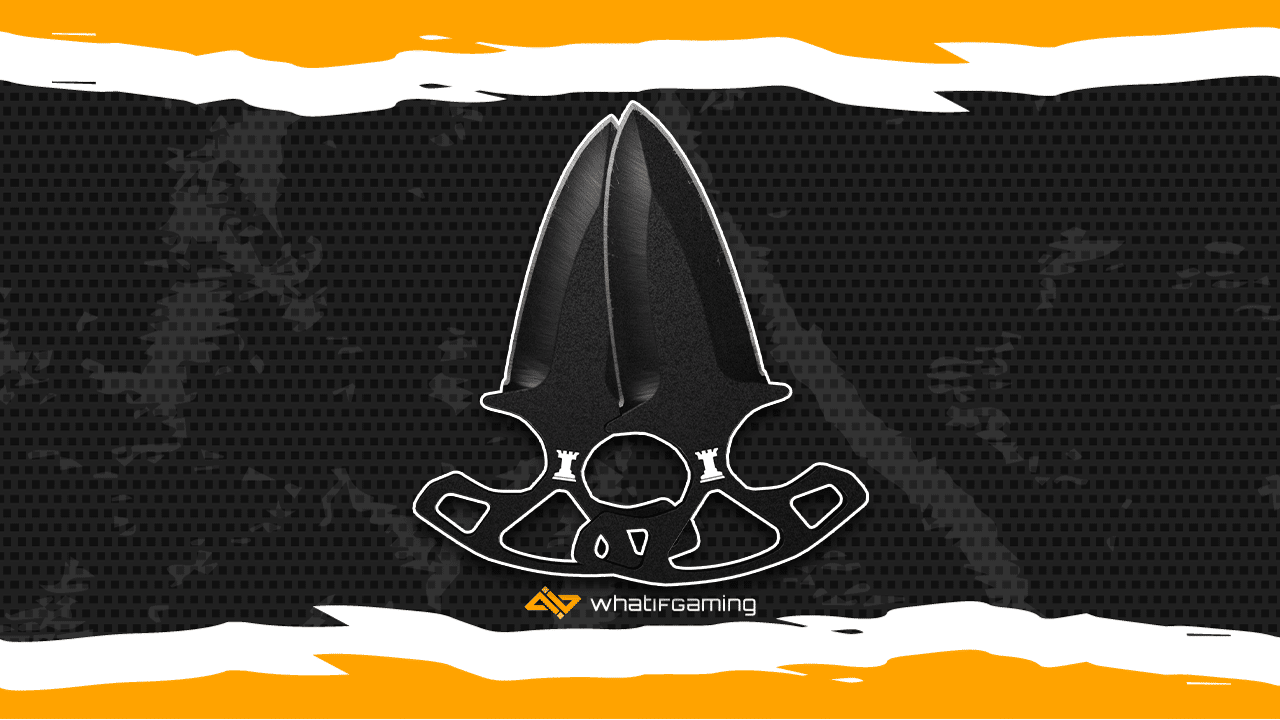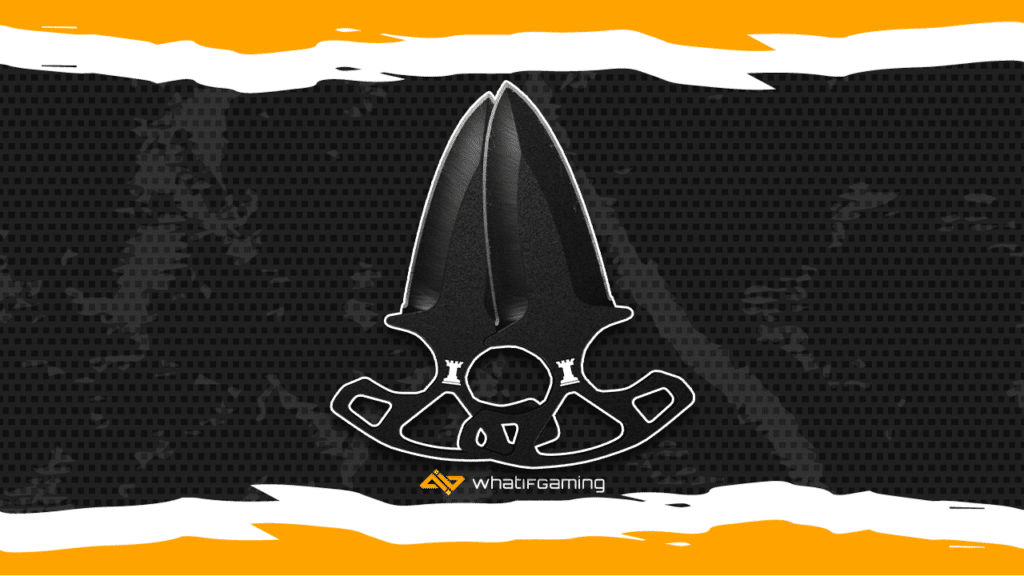 The "butt-plugs," I mean Shadow Daggers, have one of the most unique knife types in CS:GO. It's also the only knife that lets you hold a knife in each hand.
Despite their unique attributes, they're still one of the most hated knives in the entire community. At least it results in low prices.
The Shadow Daggers have a pretty great pullout, a good inspect, and decent slashing and stabbing attacks. It'd probably be a top-tier knife type if it didn't look horrible.
The main redeeming factor about the Shadow Daggers is its very cheap pricing. There aren't that many great skins for it, though.
Navaja Knife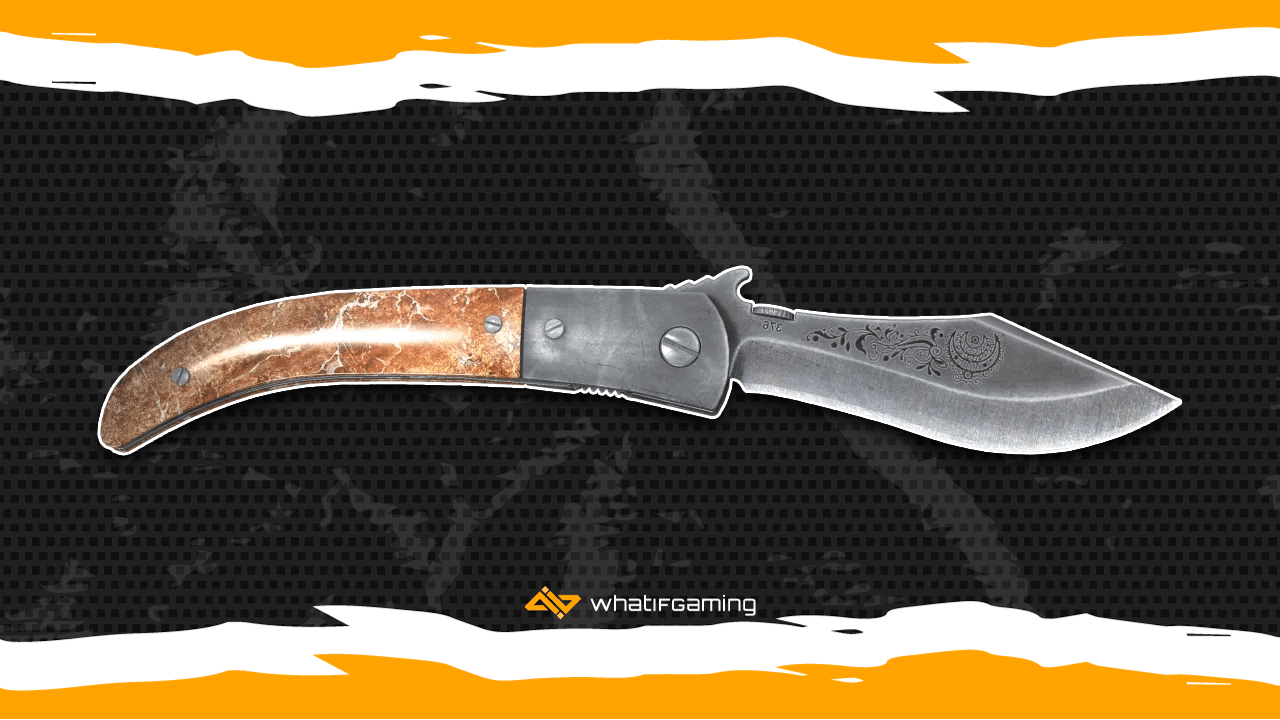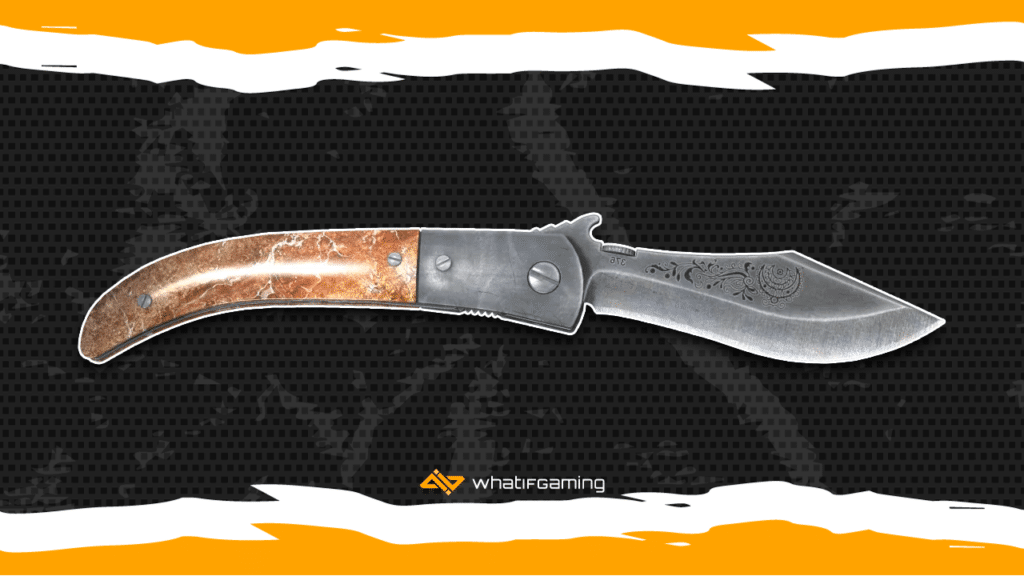 Finally, the title of the worst knife in CS:GO belongs to the Navaja Knife. The Navaja Knife is probably the most hated and least-bought knife within the CS:GO community.
Honestly, I can't blame the Navaja haters. It has a very small blade with an equally small handle. It looks like it's only good for shaving and barely looks like it can do any actual damage, much less kill a person.
The Navaja Knife does have a relatively good pullout. However, it has a basic inspect and standard slashing and stabbing attack animations.
The best quality of the Navaja Knife is its price. It's the cheapest CS:GO knife you can buy and is really the only option for players on a really tight budget. You might get flamed for owning a Navaja Knife, though.
Conclusion
The Butterfly Knife is the best CS:GO knife, in our opinion, because of its unique design, stunning animations, and great colorways. It's just a majestic knife overall.
Do you agree with our rankings for the best CS:GO knives? Comment your favorite knife type down below.